A ceremony welcoming the 30th million visitor to Hue relics in the 1994-2014 period was held by the Hue Monuments Conservation Center yesterday.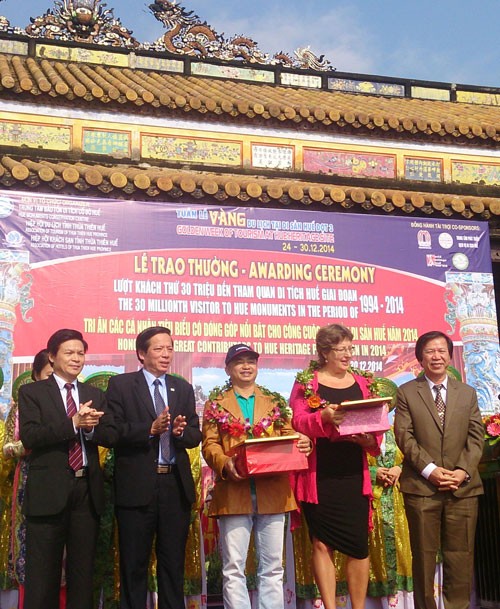 The Hue Monuments Conservation Center's representatives offer gifts to lucky visitors. (Photo: Sggp)
The 30th million visitor was Mr. Dang Dinh Nguyen who joined a tour which was offered by Saigontourist Travel Service. The lucky tourist was given a cash prize and many valuable gifts worth about VND30 million.
In addition, the 12th million international visitors visiting Hue relics in the 1994-2014 period was Ms. Tereshchenka Juliia from Russia. She was also presented gifts worth VND12 million.
Hundreds of works and items in the Complex of Hue Monuments have been restored since it was recognized by UNESCO as a world cultural heritage in 1993.
Thua Thien-Hue Province receives 2-2.5 million tourists each year, presenting an average growth of 15 - 17% and average turnover growth of 16.6 percent per year.
Hue relic site, the country's former imperial capital in Hue City has attained a turnover of over VND1,000 billion between 1996 and 2014.
On this occasion, the Hue Monuments Conservation Center also honored individuals who made great contributions to Hue relics in 2014.