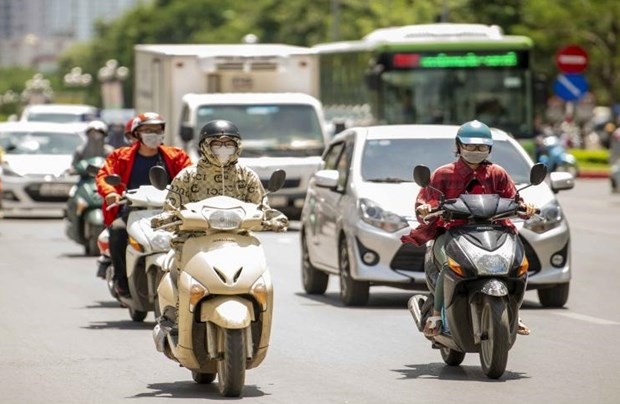 Illustrative image (Photo: VNA)
Meteorologists have warned heat along with low humidity will pose risks of forest fires, exhaustion, and health problems to those having to work in high temperatures for a long time.
The northwestern region is partly cloudy, with the mercury even topping 39 decrees during the day but some places can expect showers and thunderstorms at night. Meanwhile, the northeastern region will see harsher weather with no downpours at night and the mercury hovering around 40 degrees.
Hanoi capital is partially cloudy, with the highest temperature being 38 to 40 degrees or even higher in some places.
It's partly cloudy from the north-central coast province of Thanh Hoa to the central province of Thua Thien –Hue. Extreme heatwaves are forecast in the northern area with possibilities of thunderstorms, lightning and strong winds at night. The highest temperature is about 38 degrees.
The central region from Da Nang city to Binh Thuan province can expect showers and thunderstorms in the afternoon and at night, with the highest temperature being 31-34 degrees.
The Central Highlands and the southern region are cloudy, while rains are forecast in the afternoon and evening and the highest temperature at 32-35 degrees.
The NCHMF has warned that Vietnam will experience more hot days in 2023 due to the El Nino phenomenon which is likely to return in late May or early June and may last to early 2024.