Hosted by the city Department of Industry and Trade, the workshop was also attended by Chairman of the city People's Committee Nguyen Thanh Phong and Deputy Minister of Industry and Trade Do Thang Hai.

Speaking at the event, head of HCMC Institute for Development Studies Tran Hoang Ngan emphasized that major economic sectors which the city gives development priority to have no longer fitted the trend of Industry 4.0. If the city wants to maintain the growth momentum at over 7 percent in coming years, it needs to adjust priority industries as well as develop new industries to suit the trend.
Specifically, pharmaceutical chemistry and plastics-rubber are sensitive to the environment and labor intensive, requiring large scale factories but not creating high added value. At present, the narrowing land fund in the city is rocketing rent. Hence, these two industries will suffer heavily competitive pressure. Other industries including garment and textile, leather and footwear, manufacturing and food processing still have development advantages in domestic market and export. However they need to focus on studying new products to increase export value.
In long term, the city should concentrate investment on four fields comprising hi-tech agriculture, smart production, development study and regional connectivity, he suggested.
According to the city Department of Industry and Trade, HCMC's economic growth is estimated to reach 7.9 percent this year. That is the ninth consecutive year that the city obtains the growth rate of more than 7 percent. The city's industry accounts for 32.3 percent of industrial output of the Southern Key Economic Zone and contributes about 16 percent to the country's industrial production scale.
Industrial Production Index (IPI) is estimated to grow 7.66 percent a year on average since 2015 till now and in the uptrend year by year. This proves that the city's industrial production scale has been expanding and businesses have invested in enlarging production as well as renewing machines and equipment to improve their competing ability.
Mr. Nguyen Van Tri, director of Lap Phuc Company said that processing and manufacturing, electronics, electricity and hi-tech production traditionally require large investment with long payback period. Hence, the city should have support strategy in long term. For the last past, the city has established many investment capital support funds for businesses but complicated administrative procedures have made it difficult for them to access these funds so administrative reform should be implemented more drastically.
Moreover, the city should invest in building an industrial center or institute which will operate under financial autonomy mechanism to help small and medium enterprises improve technology ability.
Meantime, Mr. Le Hoai Quoc, Chairman of HCMC Automation Association suggested that the Government should have measures to protect the electricity and electronic appliance market such as defense tax, technical barriers and anti-commercial fraud.
Making a statement at the event, HCMC Party Leader Nguyen Thien Nhan emphasized that besides objective factors, it is needed to see that there are problems in industry management structure. The Department of Industry and Trade plays the advisory role in building industry development strategy in general but it does not manage export processing zones, industry parks and high-tech parks.
Therefore, the database necessary to estimate human resource, the number of businesses investing in each industry as well as productivity have not been fully counted. This will impact on building and orientation of the city's development strategy. So Mr. Nhan required closer cooperation among competent agencies.
It is a must to admit that private firms play a very important role to the city's development. Therefore the municipal authorities should strengthen dialogue with them to build industrial development strategy and cooperate with them to form a major industry development council with the participation of all economic sectors. That will help the city enact new support policies close to reality and tailored to the needs of business community, he added.
Chairman of HCMC People's Committee Nguyen Thanh Phong said that in the upcoming time, the city will draw industry development orientation and take into account factors such as advantages of businesses in the city, industries capable of joining production networks and global value chains with pervasive effect on other industries. Production industries must use environmentally friendly and energy-saving technologies, able to create high added value. More importantly, they must meet domestic demand and increase export quickly.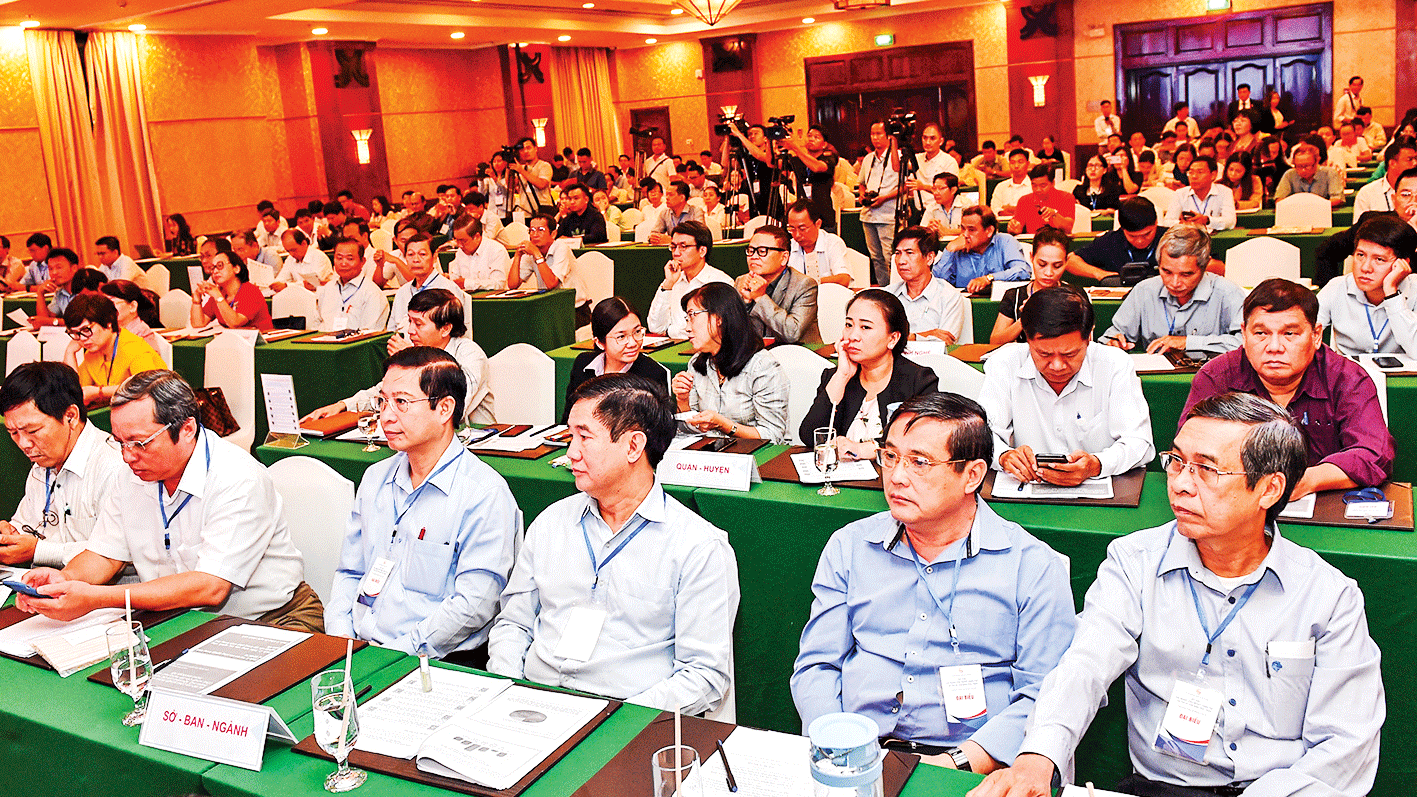 Delegates at the workshop (Photo: SGGP)