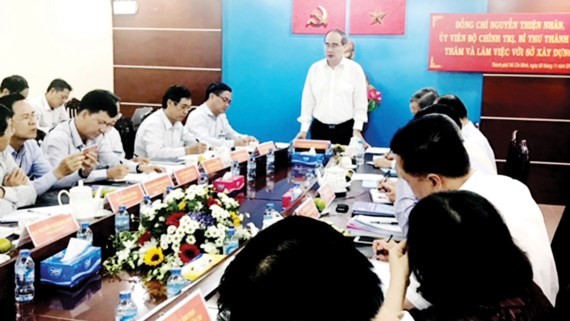 He was speaking at a working session with the Department of Construction about the city's breakthrough program on urban planning and development in the phase of 2016-2020.
At the meeting, deputy chairman of the city People's Committee Le Van Khoa said that HCMC has focused on removing canal houses, reorganizing the life of affected residents, upgrading and rebuilding old apartment blocks this year.
So far, the city has completed quality verification of 474 old apartment blocks built before 1975.
The People's Committee has authorized the Department of Construction and districts to repair and upgrade old tenements to have a total of 200 new apartment buildings by 2020. In the previous phase, the city had built only 16 works.
At present, the city has about 20,000 canal houses concentrating in District 8. By 2020, the city will basically remove all to create a new look for HCMC.
In response to the Department of Construction's proposal to supplement the staff of construction inspectors for districts and wards to reduce illegal construction, Mr. Nhan urged the agency to do relevant procedures, submit the project to the Party Committee and People's Committee for consideration in order to implement in 2018.
Director of the department Tran Trong Tuan said that in 2017 the agency has been focusing on administrative reform, mostly construction license procedures. Specifically, it has piloted one door mechanism in granting the construction license in some districts. The mechanism reduces document solving time from 122 days to 42 days.
Appreciating the agency's attempts in administrative reform, Mr. Nhan said that the one door mechanism might reduce time and solve lot of congestions for businesses adding that the agency should have more initiatives in the construction field to reduce troublesome for residents and businesses in the city.