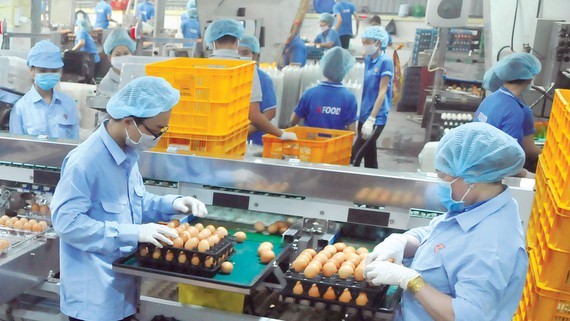 As for pork, beside preparation plans of enterprises, the city also planned to stockpile more chicken and import beef as alternate.

According to Ms. Nguyen Huynh Trang, deputy director of the Department of Industry and Trade of Ho Chi Minh City, since the beginning of this year, the city has carried out several solutions to resolve difficulties, promote investment, expand market and create conditions for enterprises to develop production and business. In the commercial service sector, in the first ten months of this year, total retail sales and consumer service revenue reached more than VND942.57 trillion, an increase of 11.6 percent over the same period last year. Of which, retail sales exceeded VND615.58 trillion, an increase of 12.5 percent over the same period last year. Sales of food and foodstuffs hit VND102.89 trillion, accounting for 16.7 percent, up 11.5 percent.

In the past ten months, market prices of essential goods in the city were fairly stable. There was no shortage of goods or sudden hike in price. As for supply chain of subsidized goods, because there is close connection between distributors and producers and farms, many contracts have been planned and signed in advance and pledged to keep prices steady for a long time so farming and income of farmers in the supply chain are not affected.

As for goods supply during the festive season, the department collaborated with other departments and enterprises to prepare food and essential goods. Particularly, enterprises have prepared to produce and store goods, worth of VND19.02 trillion for two festive months, an increase of VND602.5 billion compared to the amount of money prepared for last lunar New Year, of which, total value of goods for the price stabilization program is more than VND7.24 trillion. For the peak month of Tet holidays from December 26 to January 24, total value of goods prepared by enterprises will be more than VND10.22 trillion with the value of subsidized goods of VND4.08 trillion.

The amount of goods prepared has risen by 14.6-17.3 percent compared to the plan entrusted by the city and increased by 21-28 percent compared to the amount of goods prepared for last lunar New Year. Many goods groups are prepared in large quantity, controlling for 20-53.2 percent of market demand, including poultry meat, poultry egg, processed food, cattle meat, cooking oil and rice.

Enterprises participating in the price stabilization program have pledged to keep the price steady and not raise their prices within a month before Tet and a month after Tet. At the same time, they will offer huge discount during two days near Tet for essential goods, such as pork, chicken and poultry egg.

Mr. Truong Chi Thien, director of Vinh Thanh Dat Food Corporation, said that preparation of goods for Tet holidays has been smooth as prices of feed and input material were stable. The company has completed cooperation with its partners to invest and develop total flock so as to increase production of poultry eggs to provide for market during festive season, up around 20 percent over the same period last year. In addition, the company will also stockpile goods to deal with a sudden rise in market demand. He predicted that the prices of poultry eggs will continue to be stable during Tet holidays thanks to plentiful supply.

Amid the situation that the prices of pork in the market continuously changed due to scarcity, Mr. Phan Van Dung, deputy CEO of Vissan, said that his company prepares around 2,500 tons of fresh pork and beef and 5,000 tons of processed food with total value of VND800 billion. Moreover, the company also stores 2,500 tons of frozen pork more in case of a shortage of fresh pork. The price of pigs has climbed by 35 percent and is expected to advance further from now to lunar New Year.

The Department of Industry and Trade said that right after the country was hit by the African swine fever, the city made a specific plan to ensure supply. Besides importing frozen pork in accordance with the progress of Vissan, Saigon Agriculture Corporation also pledged to slaughter their pigs early if market demand highly increases. At the same time, participants of the price stabilization program, besides stockpiling pork, also stockpile poultry meat and beef to best meet the market demand.

At the present, the price of pigs is fairly high, fluctuating from VND52,000 to VND60,000 per kilogram as the demand to export pigs to China increases. In Ho Chi Minh City, the production of pigs imported to wholesale markets has not changed much.