High demand for farm produce and the sheer variety of ways in which it is brought into HCM City from other localities makes quality control a very difficult task, officials say.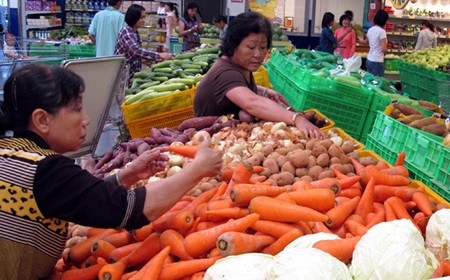 Consumers select vegetables at Metro Binh Phu in HCM City. Food producers are encouraged to produce safe farm products to help the city prevent the sale of substandard farm products.– VNA/VNS Photo Phuong Vy
They admit tighter control of the production and trading of farm produce, including meat, was needed during the months leading to the New Year to prevent a strong influx of substandard products.
The Thu Duc District's Veterinary Division reported to have fined 255 businesses VND700 million (US$33,000) and destroyed 11 tonnes of plant and animal products since the beginning of the year.
During the same period, the municipal Health Department has fined 41 businesses a total of VND600 million ($28,500), shut down four businesses, and destroyed unregistered products found on the premises of 15 businesses.
Phan Xuan Thao, director of the HCMC Veterinary Department, says the constantly high demand for farm products has created some management headaches.
City agencies are unable to monitor everything because traders keep finding new ways to bring the products in, he says.
Improvements
Nguyen Van Duc Tien, director of the city's Plant Protection Department, says that food quality has improved since the city started controlling the process at production sites.
Only one of 20 plant product samples collected from 22 businesses had pesticides and other plant protection drugs exceeding the accepted standard, and none of 5,000 collected samples from three distribution markets were found violating the regulation, he says.
Huynh Le Thai Hoa, director of city's Food Safety Agency, says that the city should encourage consumers to avoid unsafe, unregistered farm products and educate producers on food safety standards.
The Ministry of Agriculture and Rural Development has requested provincial departments to develop production chains that encourage food enterprises to work with farmers and produce safe products.
Policy problems
Chu Phu My, director of the Ha Noi Agriculture and Rural Development Department has told the Kinh te & Do thi (Economic and Urban Affairs) newspaper that there are problems with the new policy that requires food producers to register and label their products before selling them.
He says that food enterprises, individuals and farming households are not used to working together within the new production - sale model.
He says the Government should provide greater incentives to address this issue, given that agriculture is typically a low-profit venture with high risk, depending on the vagaries of the weather and the market, not to mention being prone to losses inflicted by diseases.
Even those selling meat preferred to slaughter the animals and sell fresh meat instead of processing and preserving it, he notes.
The Government should educate enterprises, individuals and farming households about the benefits of joining production chains and selling safe farm products, he says.