Le Thi Ha Thu, a Vietnamese beauty, who listed in the top-17 most-beautiful beauties around the world in the final round of Miss Intercontinental 2015 and received the title of 'Most Favorite Contestant'.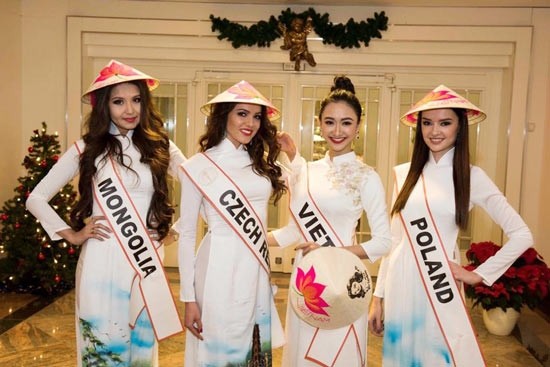 Ha Thu (second from right) and international contestants wear Ao dai ( Vietnamese traditional long dress) and Non la ( palm-leaf conical hats)
She brought a great impression among 64 contestants to the organization board, juries. Ha Thu also prepared not only a painting about Vietnam Child holding the cornflower (or cyanic flower)- National flower of Germany to give Mayor but also introduced images of Vietnamese traditional long dress (Ao Dai) and palm- leaf conical hat to international friends.
Ha Thu is the third Vietnamese beauty attended in the semifinal round after super- model Thanh Hang in 2005 and Huynh Thuy Anh in 2004.
As the final result, Valentina Rasulova from Russia won new beauty queen of Miss Intercontinental 2015 and the title of "Nice body contestant". The second runner-up of Miss Intercontinental 2015 respectively went to Christi Lynn McGarry (Philippines), Brianne Bailey (USA), Katherine García (Venezuela) and Tendai Bongani Humda (Zimbabwe).