Vietnamese companies, especially small- and medium-sized, lack the knowledge to take advantage of the country's international integration, Vu Kim Hanh, chairwoman of the Business Association of High-Quality Vietnamese Goods, has said.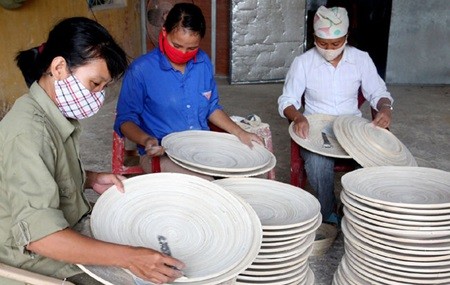 Workers produce sedge products for export at private business Thanh Hoa in northern Ninh Binh Province. Domestic firms lack knowledge to take advantage of global integration. — VNA/VNS Photo Dinh Hue
A series of free trade agreements the country has signed or plans to sign would provide Vietnamese businesses with the opportunity to expand their markets, but grasping it is a big challenge, she said.
Many are struggling even in the domestic market, so making headway in the international market is not easy, she said.
Each FTA comes with specific regulations, and learning about them and complying with them is imperative if businesses want to take advantage of their benefits, she said.
Truong Minh Huy Vu, director of the HCM City University of Social Science and Humanities' Centre for International Studies, said many companies feel "stifled" by the volume of information emanating from the FTAs.
For instance, the Trans-Pacific Partnership agreement has been made public, but it is too long for businesses to comprehend, he claimed.
It is not easy for them to fully understand the information either, he said.
He said there are three sources that provide the information to the businesses: the Ministry of Industry and Trade, which directly negotiates FTAs; researchers; and business groups and companies that do business with the countries signing the FTAs with Viet Nam.
Many surveys have found that businesses are unclear about the provisions of FTAs, and this prevents them from capitalising on opportunities and preparing to cope with challenges, he said.
However, supplying information to businesses is not a simple task since every business has different information needs, which information suppliers need to understand, he said.
Pham Sy Thanh, director of the Chinese Economic Study Programme at the Viet Nam National University in Ha Noi, said the Government should ensure business groups provide information about the market and integration to their members.
It is an expensive business for a company to acquire information or get involved in a trade-related lawsuit, he said.
Businesses expect industry associations to play their role better, he said.
Huynh Van Thon, general director of Loc Troi Group, said Vietnamese companies should not remain passive about learning about FTAs if they want to institute strategic changes