MANCHESTER, United Kingdom, Sept 13, 2010 (AFP) - The bitter memory of last year's Champions League exit to Bayern Munich is driving Sir Alex Ferguson as Manchester United launch their latest quest for European silverware against Rangers at Old Trafford on Tuesday.
Despite already guiding United to two Champions League triumphs, Ferguson remains unshaken in his belief that the English giants could and should have had more to show for their efforts in Europe during his 24-year reign.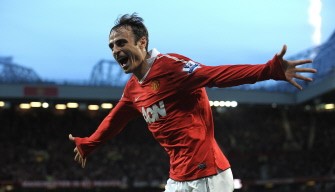 (AFP file) Manchester United forward Berbatov
And nothing rankles Ferguson more than the manner of last season's defeat to Bayern, when United raced into a 3-0 lead in the second leg before the Germans scored twice to advance on away goals.
Ferguson is convinced that the quarter-final defeat deprived United of the opportunity of adding to the club's haul of Champions League crowns, believing they would have proved more of a match for eventual winners Inter Milan in the Madrid final.
"We've only won it three times, which is not enough for this club, and we've been unlucky a lot of times. Other times we've just ballsed it up," Ferguson said. "The reality is we could have won it another two or three years.
"Last year still plays on my mind, that Bayern Munich game. Christ, I'm still not sleeping after that! I keep thinking about that game and keep getting angry about the way we lost it.
"If we'd got past Bayern Munich I think we would have reached the final last year and I'd have fancied us against Inter Milan," Ferguson told the People newspaper.
Tuesday's Group C encounter pits Ferguson against the club he supported as a boy and played for as a professional between 1967 and 1969.
It also sees him renew his rivalry with close friend Walter Smith, the Rangers boss whose career included a brief stint as Ferguson's assistant at United during the 2003-2004 season.
Smith was also part of Ferguson's coaching staff during Scotland's 1986 World Cup campaign.
Despite a record against Scottish clubs in Europe that suggests a winning start for United on Tuesday, Ferguson has warned his players against complacency as they seek to shake off the disappointment of throwing away three points in the 3-3 Premier League draw with Everton on Saturday.
"You've got to respect Rangers and with their history you can't take them for granted," Ferguson said. "I know Walter Smith well and just how organised and difficult to beat his side will be."
Ferguson has confirmed Wayne Rooney will be available for selection after missing the Everton game in the wake of revelations about his private life. Captain Rio Ferdinand is also expected to return from injury.
The last time United faced Rangers in the Champions League, Ferguson's men prevailed in both games, winning 3-0 in Manchester and 1-0 at Ibrox.
In fact United have lost only one game in eight encounters with Scottish teams in Europe, a 1-0 loss to Celtic in a 2006 group stage match.
Smith meanwhile acknowledges the Glasgow giants could be in for a difficult evening against a side he ranks along with Real Madrid and Barcelona as one of the biggest clubs in world football.
"It doesn't matter how much money Chelsea or any of the rest of them have got, they will never get what Manchester United have got; that certain aura around them," Smith said.
"The top Italian teams can always reach it at different times but I think there is just something about Barcelona, Real Madrid and Manchester United."
Smith remains confident that Manchester will be spared the ugly crowd violence which marred the 2008 UEFA Cup final, when Rangers fans rioted in the city centre.
Only 4,700 ticketed fans are expected to travel for Tuesday's game, compared to the estimated 130,000 who descended on the city two years ago.
"I just hope that we have no recurrence of the scenes that followed the UEFA final," Smith said.
"I'm certain we won't because our supporters have been going away over the last few years and and there has not been any real incidents of note."