An earthquake measuring 2, 5 on the Richter scale occurred in the area of Huong Tra town, A Luoi mountainous district, Thua Thien Hue province at 12: 38 am on November 6, reported the Earthquake Information and Tsunami Warning Center.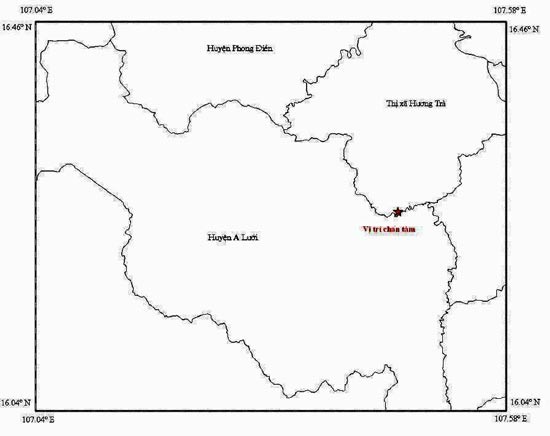 Map of epicenter location in Huong Tra town, Thua Thien- Hue.
The powerful earthquake was located at 16, 260 degrees north latitude and 107, 461 degrees east longitude with its epicenter location at 39 kilometers deep underground.
Eight earthquakes hit the areas of A Luoi district from May, 2014 to September, 2015. And the largest earthquake was measured at 4, 7 on the Richter scale on May 15, 2014.
Three earthquakes consecutively occurred in the areas of A Luoi district on April 8 - 9, 2014, measuring 3 on the Richter.
According to the experts, these earthquakes did not cause much damage to local resident's life.