LONDON, Sept 4, 2010 (AFP) - Fabio Capello was left purring with pleasure on Friday after witnessing a welcome return to form for Wayne Rooney as the England talisman orchestrated an emphatic defeat of Bulgaria.
The revitalised Manchester United striker reveled in a free role behind Jermain Defoe, helping his strike partner bag a hat-trick in a 4-0 rout of England's Group G opponents at Wembley.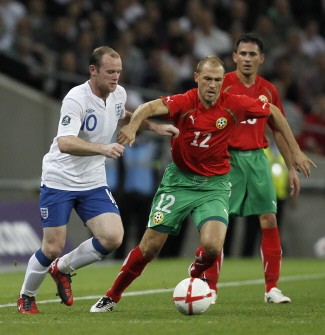 Wayne Rooney (L) vies with Bulgaria's Georgi Peev during the match at Wembley Stadium on September 3, 2010. AFP
It was in stark contrast to Rooney's miserable series of displays throughout the World Cup, where he proved to be one of the biggest disappointments of England's misfiring campaign.
But where a clearly frustrated Rooney had looked desperately short of peak fitness and form in South Africa, Friday saw him back to somewhere close to his best, dropping deep and demanding to be involved.
"I spoke with him before the game," Capello revealed afterwards. "I knew a lot about Bulgaria's system.
"I told Rooney to stay just in front of the two central midfielders and from this position to go forward, to be free, to pass more balls."
Rooney was directly involved in all three of Defoe's goals and also had a hand in substitute Adam Johnson's late strike.
It took Rooney just three minutes to make his mark at Wembley as he helped win possession, then unfurled a sublime chipped pass to Ashley Cole, who crossed for Jermain Defoe to fire England into the lead.
There was a more determined look about Rooney as he harried Bulgarian defenders and dropped deep to get on the ball and influence the tempo of England's play.
His positive mood was reflected by Capello, so often an agitated figure in South Africa.
A miscontrol by Rooney that gave possession back to Bulgaria was the kind of sloppy mistake that would have drawn a furious reponse from Capello during the World Cup but, keen to keep the mood upbeat, the Italian just clapped encouragingly.
Rooney went close to increasing his team's lead early in the second half with a clever chip from outside the area that Nikolay Mihaylov pushed over the bar.
It was no surprise that Rooney was the architect of England's killer second goal when he slipped a pass through for Defoe to drive past Mihaylov.
He provided a third assist with a simple pass to Adam Johnson as the winger netted late on and still had time to lay on Defoe's hat-trick with another perfect through-ball.
No-one was happier than Defoe after benefiting from Rooney's masterclass, saying he believed the duo could now form an effective partnership for England.
"Obviously when you play with a partner it takes a little time to gel. He's a great player," Defoe said. "Like I've said before, if I make the runs I know he'll find me. And he did that tonight.
"When I got the second he said 'Just keep it going and you'll get the third.' It's always nice when you play with a partner like that and he wants you to get a hat-trick. When I got the third he just said 'Well done.'"
"I've always said sometimes it takes time to get things working. In training, we played together all week and it's been very good.