Lots of supermarkets and convenient stores have simultaneously implemented a Ho Chi Minh City's program to sell vegetables and livestock meat under safe and clean standards, after some cases of contaminated food were spotted.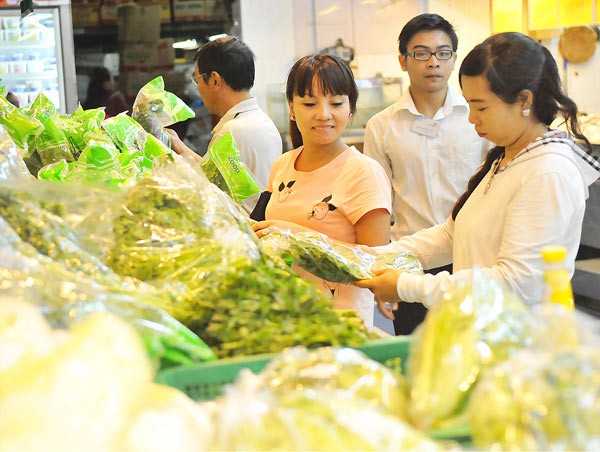 Customers buy VietGap vegetables at CoopMart Cong Quynh in HCMC (Photo: SGGP)
At a conference yesterday, the Ho Chi Minh City Department of Industry and Trade officially announced a system of 246 spots selling foods under quality standards VietGap, GlobalGap and HACCP.
That was result of the city's efforts in implementing a project on production and trade of safe food, ensuring clear origin from farms to dinning tables for the phase 2013-2015.
Department deputy director Nguyen Ngoc Hoa said five businesses have officially registered to provide clean food at the above 246 spots, mainly vegetables, livestock meat, poultry and eggs.
They are Saigon Trading Group (Satra), Vietnam Meat Industries Company (Vissan), Saigon Agricultural Incorporation (Sagri), Anh Dao General Agricultural Service Cooperative and Saigon Union of Trading Co-operatives (Saigon Co.op).
At the conference, businesses and leaders from provinces expressed happiness as the program has initially solved their long concern over consumption sources of VietGap products. It will create conditions for businesses to develop production models under safe standards.
Department director Le Van Khoa added that two markets have registered to carry out safe food market model including Hoc Mon wholesale market and Ben Thanh market.
Besides pointing out a difficulty from unabundant source of VietGap products, he emphasized the city's determination to practice the program.
Authorized agencies will continue assisting businesses and cooperatives to develop breeding and vegetable farms under VietGap standards, gradually drive back low quality products, and ensure food hygiene and safety.