A photo exhibition marking the 70th founding anniversary of the Vietnam People's Army opened at Ho Chi Minh City Youth's Cultural House on December 14.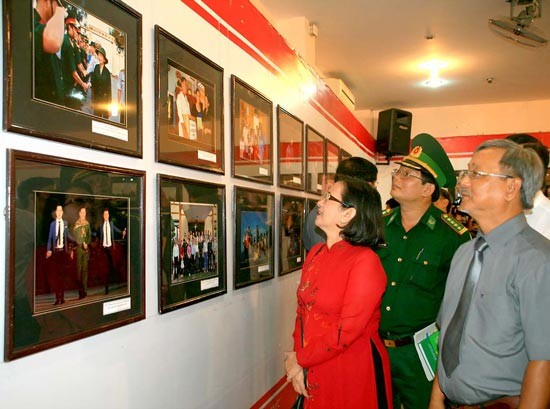 Ho Chi Minh City's leaders visit the photo exhibition. (Photo: Sggp)
The exhibition features 102 pictures honoring Uncle Ho's soldiers in training, working, patrolling, helping the people and protecting national independence.

Pictures were taken by photographers, including Tu Luong Van, Nguyen Hong Nga, Hoang Quoc Thai, Nguyen Van Khanh, Tran Thi Tuyet Mai, Ha Chi Hung, An Dung, Nguyen Xuan Cuong and others.

The display titled "Uncle Ho's soldiers, finest people" will run until December 17.

On the occasion, a book featuring nearly 100 poems, writings, songs and paintings by 56 authors who are writers, poets, painters, musicians, journalists including Ngo Ngoc Ngu Long, Le Tu Le, Bich Ngan, Tram Huong, Pham Minh Tuan, Nguyen Ngoc Thien, Phan Hoang, Hoang Dinh Quang, Nguyen Thu Phuong, Huynh Man Chi, Ngo Hanh was released.

In addition, special art programs and meetings celebrating the 70th anniversary of the Viet Nam People's Army between war veterans have been organized in Ho Chi Minh City and Binh Duong Province from December 13-15.