The National Hydro Meteorological Forecasting Center said that winter this year has shortened with temperatures higher than the average level of many years although ice and snow have occurred in some places in the second half of December.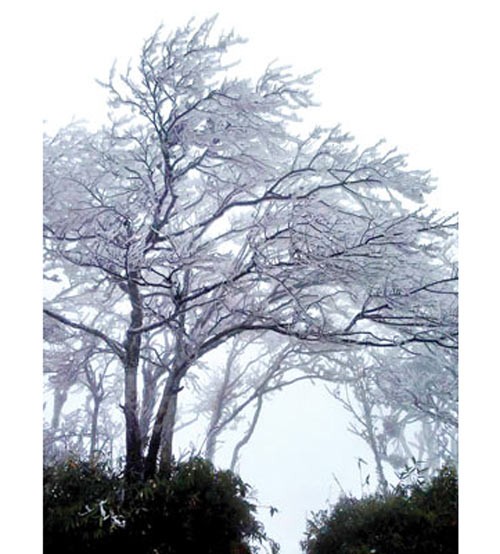 Trees coated in snow in the northern province of Cao Bang on December 16 (Photo: SGGP)
Center director Hoang Duc Cuong said that they had kept track of weather change since early this year and found many 'bad' records.
Unseasonable rains and flooding spread across wide areas in the northern region in January; hot and muggy weather caused prolonged drought in the northern, north central, mid central and south central regions; and record downpours pummeled Quang Ninh province at the end of July.
Meantime, storms and tropical low pressure systems were found fewer than the average number of many years especially in 2014 when the country saw few storms and depressions in the East Sea.
This year, Vietnam has seen only five storms and one tropical depression brew in the East Sea. Of these, two affected the mainland directly.
As of December 16, 22 cold spells have slammed in the country, lower than that of many years. The lowest temperatures were recorded at 1.6 degrees Celsius in Sa Pa, minus 0.3 degree in Sin Ho and 1.8 degree in Dong Van in the northern mountainous region.
Temperatures have been on up trend while storms and cold fronts have reduced, Mr. Cuong said.
In the summer this year, the country experienced up to 17 heat waves and many 'bad' records including the longest heat wave.
Despite of the 60 decade record downpour in Quang Ninh, rainfall lessened across the country due to hot weather. Water level on rivers and springs was 20-60 percent lower than that in many areas. It reduced up to 80 percent in Nghe An and Khanh Hoa provinces.
River water level measured only 2.55 meters in Tan Chau on October 15 and 2.35 meters in Chau Doc on September 30 in the Mekong Delta, 1.1-1.4 meter lower than previous years, making it the lowest level since 1926.

According to Mr. Cuong, temperatures will be able to continue increasing in the first half next year. It is estimated to swing at 0.5-1 degree higher than average level in the northern region and 1-1.5 degree in the southern region.
In the two main months of the winte--January and February--the northern regionthe will see the mercury on the rise despite of scattered chilly rainfalls that will prolong within 4-7 days each.
Unseasonable rains are expected to occur in winter spring months in the northern region for the three consecutive year, he said.