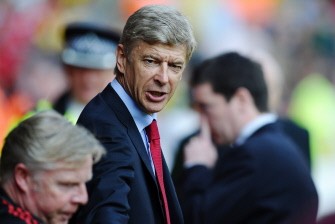 (AFP file) Arsene Wenger
LONDON, Sept 10, 2010 (AFP) - Arsenal manager Arsene Wenger on Friday saluted Sir Alex Ferguson as his old rival prepared to take charge of his 700th Premier League match in charge of Manchester United.
Wenger has spent much of his time in English football in direct competition with Ferguson for the game's top honours and their relationship has often been less than cordial.
But there has been more respect between the two in recent years and Wenger was happy to pay tribute to Ferguson on Friday ahead of the latest milestone in the Scot's illustrious career at Old Trafford.
Ferguson, who arrived at United from Aberdeen in 1986, will reach the 700-game landmark in his side's clash with Everton at Goodison Park on Saturday.
Wenger, who has been in charge of 527 Premier League games, said: "It is dedication and it is a fantastic achievement.
"He deserves a lot of credit to show such consistency at the top level, which needs special qualities and special dedication.
"That certainly means 700 sleepless nights before and 700 sleepless nights sometimes after the game!"