Viet Nam is expected to attract more foreign investment next year and in the future due to the opportunities and advantages resulting from free trade agreements (FTAs), according to experts.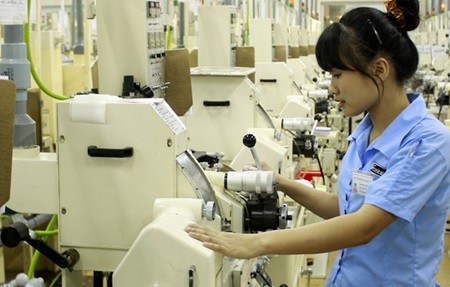 The Japanese-owned R Technical Research Viet Nam Company in Hoa Binh Province produces optical lens for cameras and optical devices. — VNA/VNS Photo Trong Dat
Vo Tri Thanh, deputy head of the Central Institute of Economic Management (CIEM), said of the FTAs, the Trans Pacific Partnership (TPP) deal and FTA between Viet Nam and the European Union (EU) would open great opportunities for Viet Nam to attract additional foreign investment, especially foreign direct investment (FDI) capital.
If foreign investors come to Viet Nam to participate in production and business, they could approach large markets that are member countries of the FTAs, Thanh said.
These member countries include the US, Japan, Australia and Canada, under the TPP, and EU countries operating under the FTA. The two large trade agreements include commitments related to Viet Nam's policies and regulations on foreign enterprises, competition, e-commerce, public procurement, labour, environment and intellectual property rights.
Therefore, Thanh said when implementing the commitments, Viet Nam would promote socio-economic reforms for all sides, he said. This would increase the confidence of investors, based upon Viet Nam's improved investment environment.
Thanh added that in the past three years, many large companies of the US, Japan and the EU had come to Viet Nam to study markets and the investment environment, reported the Dien Dan Doanh Nghiep newspaper. Some of these companies had invested billions of US dollars into the local textile and garment industry to take advantage of the TPP.
Now, the US had become one of the top ten largest foreign investors in Viet Nam, he said, and the US expects to be the largest foreign investor in the nation in the future.
According to the General Statistics Office, disbursement of FDI in Viet Nam reached an estimated $13.2 billion from the beginning of 2015 through November 20, up 17.9 per cent against 2014.
There were many large projects during this period, said Nguyen Mai, chairman of the Viet Nam Association of Foreign Invested Enterprises. They included the $1.5 billion LG factory in Hai Phong, Samsung's factories in Bac Ninh and Thai Nguyen provinces, and Microsoft's factory in Bac Ninh. They also involved the Nghi Son Petrochemical Refinery project, with an investment of $9.5 billion, a $9.9 billion Formosa steel complex in Ha Tinh and a $1.4 billion Samsung factory in HCM City.
Investors from large countries had planned to invest in Viet Nam, such as Japan, South Korea, Germany and the US, Mai noted.
According to a Japan External Trade Organisation (JETRO) survey, 80 per cent of Japanese companies surveyed have planned to study investment activities in Viet Nam, while 70 per cent of Japanese companies operating in Viet Nam hope to expand their investments in the country, he said.
Meanwhile, there were positive feedbacks from foreign investors of other associations, such as Amcham and Eurocham.
Mai said that next year, many multinational groups have scheduled to move their production and businesses from other regional countries to Viet Nam, to take advantage of the FTAs, reported online newspaper bizlive.
Therefore, the Government should guide authorities of provinces and cities to choose suitable foreign investors and technologies to protect the environment and save energy, he noted.