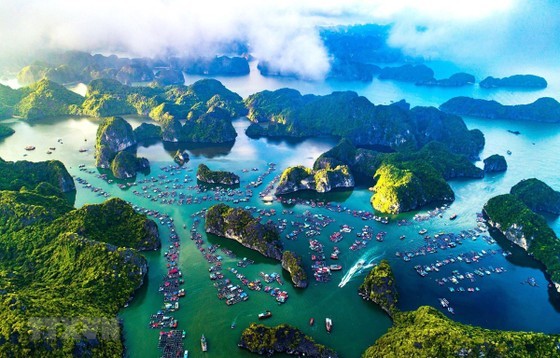 Cat Ba Archipelago
The reasons are being attributed to short-term visas, lack of an airport in some attractive destinations like Sapa, living conditions not meeting the basic requirements of larger communities in the world such as Muslims, or even limited spoken English of the Vietnamese people. These reasons are all valid, but the fact remains that the people of Vietnam are not yet oriented towards the culture of tourism and meeting with foreigners.
Thai perspective
"All people do tourism" means that all departments directly related to tourism such as the General Department of Tourism, customs, cab drivers, hotels, restaurants, and tour guides must be always aware that their gestures, attitude, and actions affect tourists coming to Vietnam from another culture. Kindness, friendliness, thoughtfulness, enthusiasm, and responsibility will determine whether foreigners will return to visit Vietnam or not as this is the experience that they will take back with them and also share with others in their country.
The people of Thailand have formulated a very clear concept towards tourism. People benefit directly or indirectly through different channels such as taxes and social benefits obtained from tourism and tourism services. They also enjoy and share the prestige and image of their country. Although there are occasional protests between political factions within the country, Thailand tries not to let internal matters affect its tourism industry. This is a strong reason why they do not have competition in their tourism business and are not known to pester or cheat tourists.
There is also uniformity in their services. For instance, the exchange rate at the airport, at banks, or at retail points on the streets is the same. Goods such as electrical appliances, consumer goods, general foodstuffs, and drinks are the same price at airports or supermarkets. The Thai people flow into tourism with a spirit of how to make international guests spend money and still feel they have received their money's worth, with a desire to keep returning back to Thailand.
The Thai people have grasped the need of Vietnamese people who prefer electronic goods such as televisions, locomotives, and motorbikes from Thailand, so these goods are made available right at the airport at a lower price and even packed and shipped at the customers' convenience. The Thai serve their customers so conscientiously that buyers just need to go to the airport to receive the goods without paying a dime extra.
Image of Vietnam
On the other hand, Vietnam is constantly accused of oppressing and catching foreign tourists, although this phenomenon has decreased compared to about ten years ago. These negative images have worsened the image of the country in the eyes of foreign tourists. There are stories like that of a coconut seller in Ho Chi Minh City who duped tourists by selling coconuts for VND200,000 per piece when the price is hardly more than VND15,000 per piece.
There are also incidents of tourists being forced to buy keychains and maps at high prices; tourists paying exorbitant prices for a pair of shoes in Bo Ho in Hanoi; or guests eating the same dish as locals but having to pay three times more; and even many universities who invite experts to work charging extra to extend their visas. Such incidents only cause damage to the image of the country and such incidents are never forgotten.
There are many people who think that it is just a small matter that only needs to be fixed. Many others say these negative behaviors are of a small minority. But it does represent the national image. No one can explain to each foreign guest that a bad action is of one individual only.
Foreign visitors to Vietnam are not interested in these excuses. For them, all behavior just reflects the image of Vietnam as a country, and the bad experience will stay in their memory for a long time, and even be shared with their friends and relatives back home. When a tourist is duped then some information and pictures are immediately shared on social media and countless comments and complaints flood the social networks. This seriously affects the prestige and image of the country.
As someone who has done research for a long time and traveled to many places in the world, I understand why more than 80 percent of foreigners come to Vietnam only once and never come back. And why on international travel guide websites there are dozens of warnings, including warnings about pickpocketing in Vietnam. In order to compete with other countries in the region, the spirit of tourism must be ingrained in each official and every citizen, otherwise, the goal of increasing international tourism in Vietnam will remain a far dream.