The Vietnam – Japan Joint Initiative, which was launched 11 years ago, has demonstrated Vietnam's firmness in constantly improving its business climate, Minister of Planning and Investment Bui Quang Vinh said.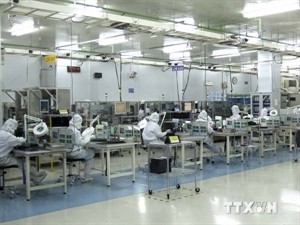 Illustrative photo (Source: VNA)
He was speaking at a high-level meeting in Hanoi on December 9 to review the fifth stage of an action plan to realise the initiative.
Hiroshi Fukuda, Japanese Ambassador to Vietnam, in his speech, said the initiative has come up with a range of policies conducive to Vietnam's industrial development, making it easier for the country to draw more capital inflows.
Meanwhile, Takahashi Kyouhei, Co-Chairman of the Vietnam-Japan Economic Committee, made it clear that Japan will further contribute to the development of Vietnam and ASEAN member countries at large.
Putting in place 16 months ago, the fifth stage of the action plan encompasses 13 groups of issues with 26 items and 104 sub-items related to law and policy enforcement, taxation, customs-transport, services, non-banking sector, intellectual property, support industry, retail, environment, labour, macro-economic stability, food hygiene, and infrastructure building involving the private sector in both short and long terms.
Relevant agencies from both countries have so far held 40 policy dialogues, with many constructive recommendations made by Japan.
According to the joint committee, 95 out of 104 sub-items are underway.
Both sides vowed to work closely together in the sixth stage of the action plan.
The event was co-hosted by the Ministry of Planning and Investment, the Japanese Embassy, the Vietnam-Japan Economic Committee, and the Joint Committee of the Vietnam – Japan Joint Initiative.