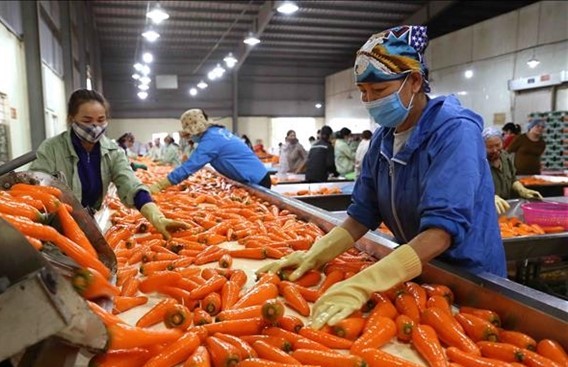 Illustrative photo
This year, many Vietnamese agricultural products have been permitted to enter many countries, including durian, sweet potato, and bird's nests exported to China; pomelo to the US; longan to Japan; and lemons and pomelo to New Zealand. That helps Vietnam diversify export markets for its farm produce.
Trung said that many agricultural products had been permitted to enter many countries this year after the negotiations had been carried out for many years. "But it is important to maintain and expand market shares in those countries," Trung said. Developing coded planting regions and package facilities is one of the mandatory requirements related to phytosanitary conditions for export products.The agricultural sector guides localities, businesses and farmers to build the planting regions and package facilities granted codes. Now, more than 300,000 hectares are granted planting area codes.
Dao The Anh, deputy director of the Vietnam Academy of Agricultural Sciences, said that the Covid-19 pandemic had changed the market structure, and many Vietnamese fruit and rice products have entered Europe, where Thailand dominated before. "In the coming time, Vietnam still has to continue to diversify markets, organise production following the requirements of the export market on food safety, and complete the post-harvest stage, including package. However, the culture is expected to have still many opportunities for export growth of agricultural products in 2023," Anh said.
Le Hang, communications director of the Vietnam Association of Seafood Exporters and Producers (VASEP), said that high inflation in export markets like the US and European Union that made demand for seafood down has started to slow down since the fourth quarter of this year. This trend may last into the first quarter of 2023. So, it is expected that in the second half of 2023, the world economy recovers and that makes the seafood demand will increase again.
Enterprises want the State to have supportive policies on the market, tax, and capital for promoting export to the world market in the coming time, Hang said.2022 continues to be a successful year in the export of agricultural, forestry and fishery products, although the agricultural sector must face many challenges such as high prices of raw materials; the market is affected by the Russia - Ukraine conflict, the production protection policy of some countries; and stricter import requirements.
The agro-forestry-fishery sector has made new export records in 2022 thanks to the diversification of markets and products.The sector's export turnover reached to top US$53 billion in the year with a trade surplus of $8.5 billion, up 30 percent year-on-year, statistics show. Notably, fishery exports would reel in nearly $11 billion, a 20-year high since Vietnam joined the international market. Records have been seen in shrimp, tra fish (pangasius) and tuna exports, with about $4.2 billion, $2.4 billion and $1 billion in revenues, respectively.
Given the 40-year high inflation and currency fluctuations in many markets and surging prices due to the Russia-Ukraine conflict, which have forced importers to consider reducing orders, Vietnamese businesses have flexibly diversified markets and products, according to Hang.She held that free trade agreements (FTAs), especially the Comprehensive and Progressive Agreement for Trans-Pacific Partnership (CPTPP), have significantly benefited the domestic fishery industry, explaining that exports to the CPTPP markets expanded by 30 percent to make up 26-27 percent of the country's total fishery export value.
Trade promotion activities both at home and abroad have also played a role in the hikes, Hang added.In the year, rice export is also expected to hit a record of 7 million tonnes, said Do Ha Nam, vice chairman of the Vietnam Food Association, noting that rice contracts would be maintained in early 2023 thanks to high prices.