Around 4,000 tea enthusiasts descended upon Dalat city's Lam Vien Square last night to celebrate the inaugural the fifth Tea Cultural Week.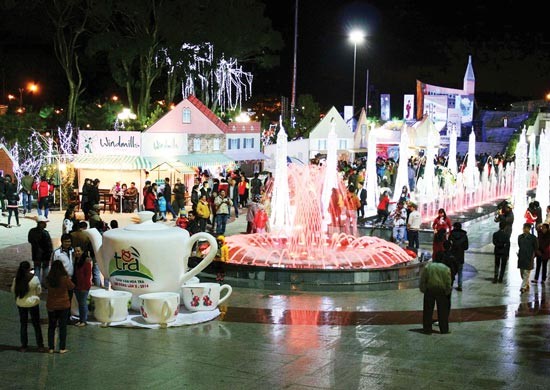 Crowded tourists join in tea festival in Dalat city. (Photo:SGGP)
The Tea Cultural Week is an interactive experience designed to help people discover and experience specialty tea; encourage and grow passion for tea. The tea festival is also aimed to advertise brand names of tea producers and their products, esp. Oolong tea produce. In addition, the festival targeted dominance and potentials of tea plant in Lam Dong province.
On the same day, the 2014 Tourism Trade Fair – Dalat Trade Village was opened at Dalat city's Tran Quoc Toan Park, with the participation of 400 booths of domestic enterprises. The fair was a favorable opportunity to advertise new services of 20 domestic tourist operators, display handmade souvenirs and Lam Dong's famous brand names.
Some attractive activities were also held in Dalat on the occasion of Christmas and New Year 2015 such as Japanese cultural days during which the organization board has held an exhibition of world heritages and Japan dolls, a flower arrangement (Ikebana) competition, introducing of film and other visual works of Japan.