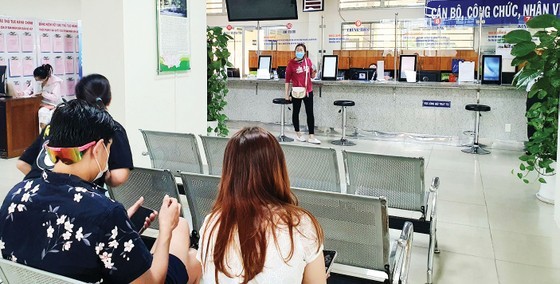 Residents coming for administrative procedures at the office of Go Vap District People's Committee yesterday morning. (Photo: SGGP)

At the reception area of Go Vap District People's Committee, all booths were ready to serve citizens, yet there were not many people carrying out administrative procedures yesterday. Most of them came for certifying their personal documents or proceeding with real estate procedures. Thanks to this, many processes could be finished in less than half an hour, and all were happy with the results.
On the same day, Nguyen Van Nam from District 12 came to the office of An Phu Dong Ward People's Committee for certifying his personal documents, feeling satisfied with such a quick service as not many people were waiting there. Chairman of District 12 People's Committee Nguyen Van Duc stated that since the first day after Tet holiday was Friday, such a low quantity of residents coming for administrative procedures was understandable. However, all civil servants were ready all day to serve citizens in need.
The same situation could be spotted in other districts of HCMC like Binh Chanh District, District 5, Thu Duc City. The number of submitted documents was not high, when the Tet atmosphere seemed still around. Civil employees were happy serving residents and aiding them fulfilling necessary steps of administrative procedures.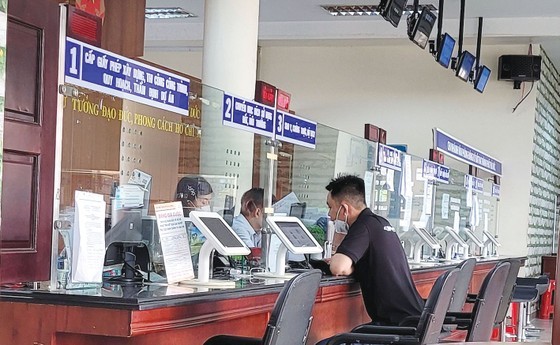 Residents coming for administrative procedures at the office of Thu Duc City People's Committee yesterday morning. (Photo: SGGP)

Yesterday afternoon, Director of the HCMC Department of Natural Resources and Environment Nguyen Toan Thang paid many sudden visits to land registration offices in District 3, Nha Be District, and Thu Duc City in order to check their document handling tasks after Tet holiday.
He commented that lately, working facilities and equipment of land registration offices in several districts and Thu Duc City have been upgraded for the administrative reform and work performance improvement. The human resources have also been taken better care of so that the tasks can be fulfilled more effectively.
In the upcoming time, these offices are asked to reduce the time to process real-estate-related documents for individuals and businesses.
In related news, on the first day back to work after Tet holiday, many state units and agencies held a briefing to give instruction on the tasks to be done at this time.
In one such briefing of the Public Security Ministry and its sub-levels, Minister To Lam requested that focused tasks and missions must be immediately launched by the local police to ensure public security and order, especially in hot spots of crimes and remote areas. Measures should be carried out to help people go back to their workplaces safely.
Meanwhile, at the Supreme People's Procuracy, Prosecutor General of the Supreme People's Procuracy of Vietnam Le Minh Tri asked that leaders of its units continue to encourage innovation in thinking and working methods, to closely cooperate with related state agencies to fulfill assigned tasks and solve major prosecuted cases that have attracted much attention of the public.