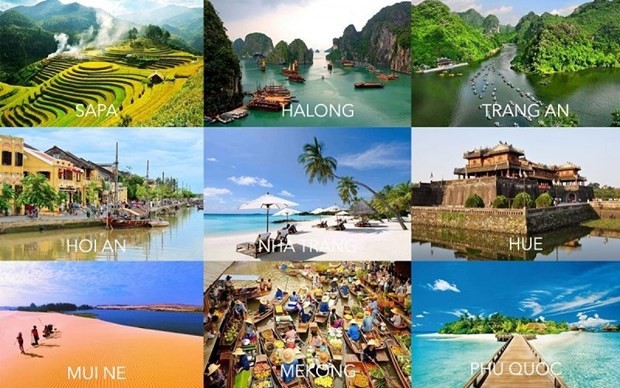 Illustrative image (Photo: thanhnien.vn)

According to the Vietnam National Administration of Tourism (VNAT) under the Ministry of Culture, Sports and Tourism, Vietnam is in the group of nations with a growth rate from 10% to 25%. The top countries include Italy, Spain, Greece, Portugal, Croatia, the US, France, Canada, the Netherlands, and the Philippines.
In Southeast Asia, Vietnam and the Philippines are the two countries in the top group in the world. Other countries rank quite far behind, namely Thailand in the 24th place, Singapore 33rd, Indonesia 44th and Malaysia 45th.
The biggest sources of search about Vietnam's tourism include the US, Japan, Australia, Singapore, India, Thailand, France, Germany, the UK, and the Republic of Korea (RoK).
In the first four months of this year, Vietnam welcomed nearly 3.7 million foreign visitors, surpassing the total number for the whole year of 2022 and achieving nearly a half of the 2023 target. With these positive results and the trend of growing demand, the international tourism market still has high potential for strong growth, especially during the peak season in the last months of this year.
Currently, the RoK remains the biggest source of tourist arrivals to Vietnam, followed by the US. Although the Chinese market has just returned, it is already in the third position and expected to recover faster than other markets due to its big market size, especially from the summer of 2023 and the last months of this year.
Meanwhile, the Australian and Indian markets have opportunities to increase the number of visitors to Vietnam, as Vietnam Airlines and Vietjet Air have just opened direct flights connecting major cities of the two countries. In Southeast Asia, Thailand and Cambodia are recovering well, equivalent to the pre-Covid-19 level.