Rescue workers are expected to take another three days to dig a bypass tunnel leading to the position of 12 workers trapped in the tunnel collapse at Da Dang-Da Chomo hydropower plant in Lam Dong Province.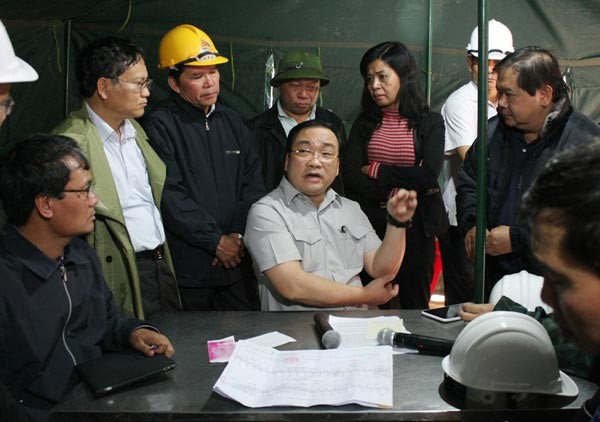 Deputy Prime Minister Hoang Trung Hai meets with the rescue steering committee (Photo: SGGP)
On Thursday--the third day of the rescue campaign rescuers dug a bypass tunnel on the right of the main tunnel. This measure has been conducted after they failed to dig through soil and stone at the collapsed section.
Tunnel diggers from the Military Region 7, Vietnam National Coal and Mineral Industries Group and Lam Dong Province have been divided into six groups and continuously dig in turns.
According to a soldier directly attending the mission, the collapsed section is estimated at 30m long, thus they will have to dig over a longer distance to reach the workers. Six meters have been dug out as of last night. Rescuers have met with difficulties while digging because of stones.
Colonel Pham Van Ty, deputy chief of the National Steering Committee for Search and Rescue Office, proposed to open an additional tunnel on the left of the tunnel for precaution. The committee has passed the proposal and immediately asked rescue groups to dig the sub-tunnel.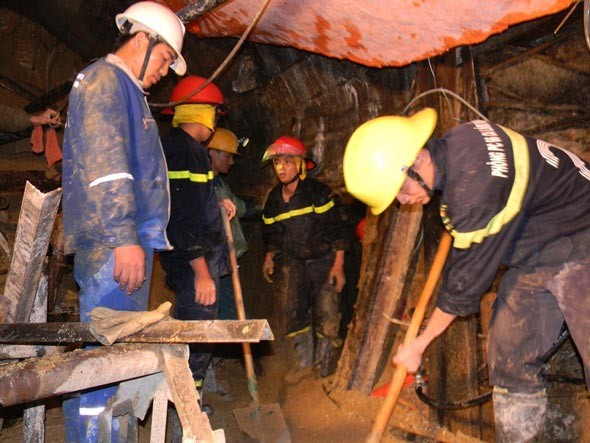 Rescuers dig a bypass tunnel to reach the trapped workers (Photo: SGGP)
Two steel pipes have been rammed through the debris at the collapsed section inside the tunnel. One has been used for supplying oxygen, milk, water and food and communicating with the stuck workers while the other one for releasing water out. The water level has stopped rising in the tunnel.
Communication with the trapped workers has been conducted through the pipe. Rescuers from this side of the debris have to shout into the pipe for one or several times and wait for response from the other side.
Yesterday afternoon, Deputy Prime Minister Hoang Trung Hai arrived at the scene, directly guided rescue operations inside the tunnel and talked to the trapped workers.
He praised rescue forces for making utmost efforts and encouraged relevant sides to further speed up rescue operations so as to soon free the workers.
He agreed with digging two bypass tunnels to access the workers and instructed rescuers to fortify sections that have been dug to ensure safety.
After talking to workers in the collapsed section, Mr. Hai knew that they are still ok and tasked the health industry to ensure their health now and after they are taken out.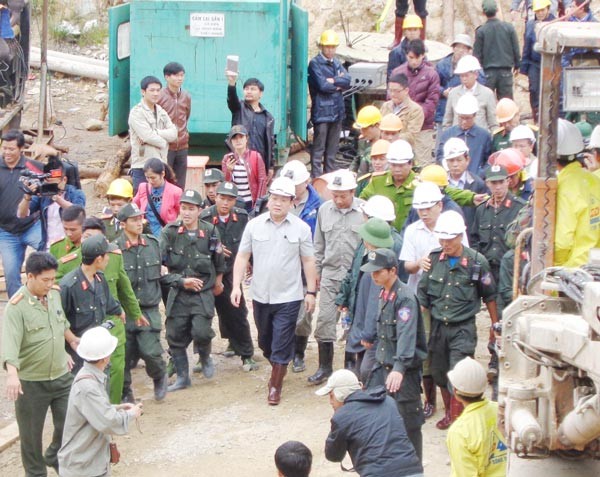 Deputy Prime Minister Hai at the scene (Photo: SGGP)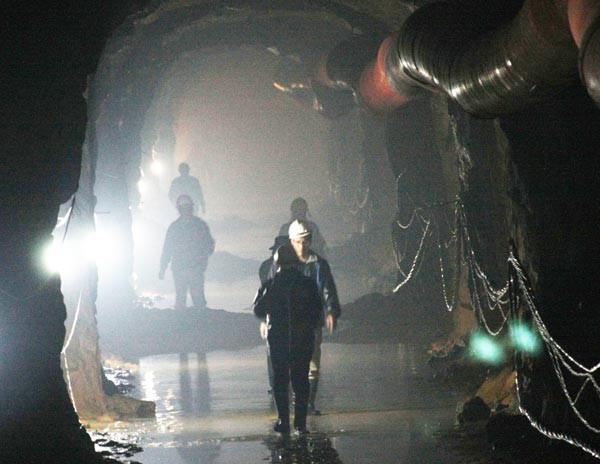 A group of rescuers leave the tunnel after a long digging day at 11 p.m. on December 17 (Photo: SGGP)