The ratification of a resolution on water resources management at the 132nd Inter-Parliamentary Union (IPU) General Assembly is expected to boost cooperation of parliaments in the field.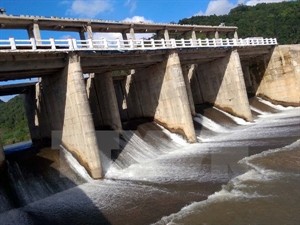 Illustrative image (Source: VNA)
The resolution will create an international legal basis to promote parliaments to join hands in protecting the human right to water and sanitation which was approved by the United Nations General Assembly in 2010.
Addressing a workshop in Hanoi on December 12, Vice Chairman of the National Assembly Uong Chu Luu, said the establishment of a new mechanism on water management will be an important topic at the 132nd IPU General Assembly.
He described this as an opportunity for domestic and foreign policymakers to evaluate the institutional framework and policy on water management in Vietnam.
Participants also focused their discussions on water issues in the millennium development goals and sustainable development; cross-border water management; and water pollution control, among others.
They also highlighted the role of the National Assembly in building a legal framework and an inspection mechanism for the exploitation and use of water resources in Vietnam.
Opinions raised during the workshop will help the Vietnamese lawmakers make active contributions to discussions of the IPU General Assembly which is slated for March 2015 in Hanoi.