President Truong Tan Sang yesterday urged the Viet Nam Association of Historical Sciences (VAHS) to mobilise all capacity to complete the National Annals of History as soon as possible.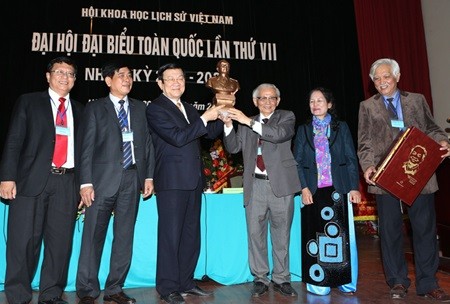 President Truong Tan Sang attends a VASH conference held in H Noi yesterday. — VNA/VNS Photo Nguyen Khang
The president made his request while making a speech at a VASH conference held yesterday in Ha Noi after listening to a report on the association's operation from 2010 to 2015.
He pointed out five key tasks for the association including the mobilisation of all capacity to complete the National Annuls of History with the best quality and encouraged all of its member historical scientists to work as direct consultants on the national education reform by improving the role of history in universal education curriculum.
President Sang spoke highly of the contribution made by the association through its members' study and research which had been considered as precious proof to affirm the national sovereignty of the East Sea, particularly in Spratly Archipelago and Paracel Islands.
He said the Party and Government would create favourable conditions for the association to undertake their activities in the next period.
The VAHS currently has a total of 6,000 members working in about 59 branches across the country including 33 at the provincial level and four in different sectors.
With a major role to boost the development of Vietnamese history, the association held numerous workshops and conducted scientific projects on society and history.
It has suggested a master project on researching and compiling the Viet Nam National Annals of History and got approval from the Politburo.
The annals, after being completed, is expected to set a milestone in the development of Vietnamese historical science.