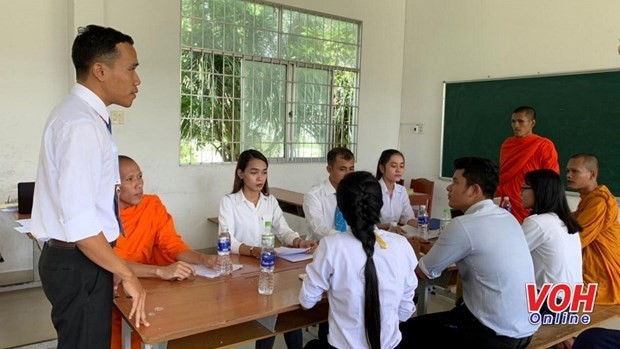 A class of khmer language, culture, art at Tra Vinh University (Photo: voh.com.vn)
The implementation of policies on investment for ethnic minority areas, especially training, fostering, and developing ethnic minority human resources in the Mekong Delta region has proven effective, contributing to narrowing the development gap among ethnic groups, regions, and urban and rural areas.
According to the Committee for Ethnic Minority Affairs' department of local ethnic affairs, educational activities in ethnic minority areas have been enhanced, while implementing policies on education, training, and human resources development has recorded positive results.
The Mekong Delta region has more than 2,000 preschools, nearly 5,700 primary education establishments, about 1,340 secondary education institutions, and 350 high schools. Ten out of 13 provinces in the region have universities.
Many, undergraduate and graduate training programs and projects have been performed by ministries, sectors, and localities. Notably, the Mekong 1000 Project to train 1,000 scientific and technical staff for regional localities, shows joint efforts between Can Tho University and localities in the region.
According to Assoc. Prof. Dr. Nguyen Trung Kien, Rector of the Can Tho University of Medicine and Pharmacy, the institution has paid special attention to training ethnic minority students with the aim of improving the quality and quantity of medical staff working in remote, border, island, and ethnic minority areas.
The university has so far trained nearly 840 ethnic minority students, mainly from Tra Vinh, Soc Trang, An Giang, Bac Lieu, Hau Giang, and Ca Mau, with 83,7 percent of the total being Khmer people.
At a recent conference on education and training development in the Mekong Delta to 2030, with a vision to 2045 organized by the Ministry of Education and Training in Can Tho city, Minister-Chairman of Committee for Ethnic Minorities Affairs Hau A Lenh proposed the ministry and localities to take measures so that ethnic minority residents have equal opportunities to access education.
Meanwhile, Kien suggested the Ministry of Education and Training (MoET) and the Ministry of Health continue training ethnic minority people in accordance with specially prescribed regimes and reviewing relevant training programs to ensure the quality of training.
Dr. Ngo So Phe from Tra Vinh University said that localities should pay attention to improving the capacity and position of women to ensure gender equality in economic development as well as strengthen their decision-making role in the family and society.
Minister of Education and Training Nguyen Kim Son emphasized that the MoET will coordinate with relevant ministries and sectors to review policies and propose plans to increase investment in infrastructure for education and work with Can Tho University on solutions to increase the number of people studying university education programs.