Northern province Phu Tho awarded 15 businesses with investment licences yesterday and signed various memoranda on investment projects, which amounted to VND5 trillion (US$220 million) during a conference held to promote investment activities in the province.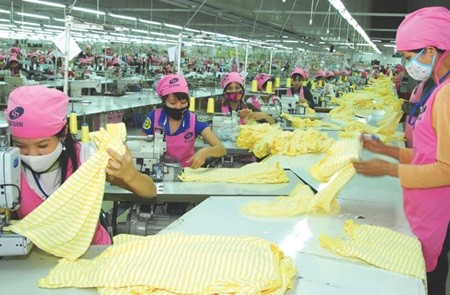 Workers make clothes for export at Korean-invested Seshin Ltd Company in Thuy Van Industrial Zone in northern Phu Tho Province. (Photo: VNA/VNS)
Deputy Prime Minister and Head of the country's Northwest Steering Committee Nguyen Xuan Phuc witnessed the signing ceremonies for various credit agreements between businesses and banks with the total investment amount of VND7.6 trillion ($334 million).
The deputy PM urged the province to focus on making the best out of its location, which connects the whole northeast region, the Hong River Delta and the northwest region.
He called on the province to tap into its other strengths including tourism and encouraged the country's banking sector to help the province develop. Central Government would continue to support Phu Tho with sound policies to facilitate investment, infrastructure building and human resource development. The province must improve its planning and management capacity, especially on land management, which would not only attract investors but help achieve sustainable development, he said.
Phuc said the objectives of improving competitiveness, administrative reforms and transparency were key factors in the province's socio-economic development. Local authorities and businesses were told to work closely together in order to speed up investment in the province.
He said the province should take the initiative on investment projects using Build-Operate-Transfer or Build-Transfer models to speed up its infrastructure development, along with other funding sources provided by the central Government.
This was the first time a conference of this kind was held to promote investment in the province. During the conference, businesses were encouraged to provide the provincial authority with feedback to improve its investment environment.