The administration of the central coastal province of Binh Thuan has just adopted a resolution to develop and promote Phan Thiet City into an attractive tourist destination by 2015.
The province authorities will focus on attracting more international visitors for longer duration stays, offering exciting packages so tourists will tend to revisit the place repeatedly.
The province expects to receive 4.5 million visitors and achieve a turnover of VND7, 500 billion in 2015.
Phan Thiet, 200km from Ho Chi Minh City, is the main city in the province.
The City is located on the borders of the Ca Ty River, 20km from the ocean. Fishing is the largest industry in Phan Thiet. According to local figures, some 100 different species of fish flourish here, providing an annual yield of over 70,000 tons.
Phan Thiet is popular for its beautiful beaches and yellow sand dunes in its famous Mui Ne town resort, around 15km from the city.
It is also known for its many beautiful landscapes, historic and cultural relics and the ancient towers of the Cham people.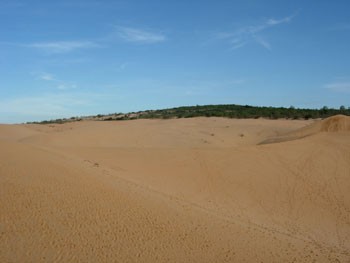 Yellow sand dunes of Mui Ne. (Photo: KK)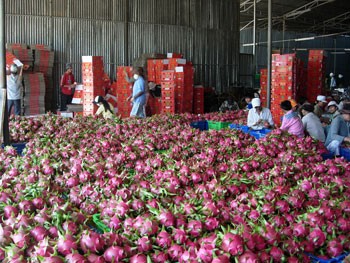 Binh Thuan Province is famous for Thanh Long or "Dragon" fruit. (Photo: KK)