At the 13th National Assembly session in Hanoi on Monday, new environmental policies for economic zones and craft villages were presented for implementation.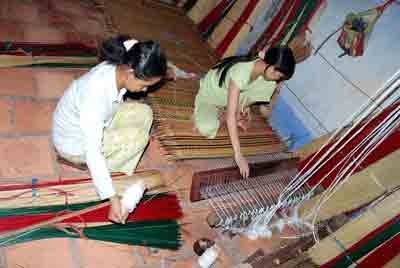 Two women weaving brocade in a traditional handicrafts village (Photo: U. Phuong)
Phan Xuan Dung, Chairman of the National Assembly Committee for Science, Technology and Environment presented the policies based on findings of a survey conducted by the committee in all economic zones.
The National Assembly Committee for Science, Technology and Environment had surveyed coastal economic zones and found that environmental infrastructure was slow in developing as compared to the rapid growth of these zones resulting in more environmental pollution.
The Committee for Science, Technology and Environment pointed out that one of the reasons for environmental pollution in these zones was improper and inadequate management. The committee has therefore petitioned for more powers for the management board in economic zones in inspecting and imposing penalties on violating enterprises as per regulations.
Deputy Chairman Nguyen Minh Lam from the Mekong delta province of Long An agreed that managers of economic zones should be given more powers to help curb pollution.
Environmental pollution in traditional handicraft villages is one of the biggest challenges and authorities have not yet adopted any effective measures. Moreover, 95 percent of staff members are not sufficiently trained. Many of the craft villages are heavily polluted and more and more villagers are contracting strange and new diseases.
Deputy Tran Du Lich from Ho Chi Minh City said the government has not paid heed to craft villages which are like a bridge between the modern and the traditional. Developing these villages will help resolve the migration problem of people moving from the countryside to bigger cities.
Nguyen Van Tien, deputy chief of the Committee for Social Affairs from the southern province of Tien Giang and many other deputies warned that some enterprises prefer to locate their factories in craft village to dodge environmental regulations, and asked for all polluting units to pay penalties.