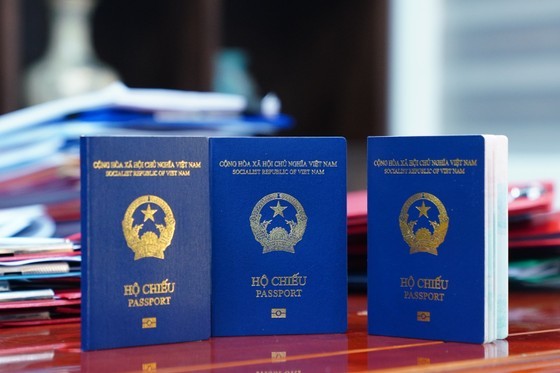 New chip-based passports will be issued from March. (Photo: Do Trung)
The chip-based passport is a passport attaching electronic device storing encoded personal information of the passport holder and the signature of the passport issuer. This is an innovative step to create favorable conditions for Vietnamese citizens, enhancing the effectiveness of the State management on exit and entry and meeting the requirement of international integration of the country.
According to the Ministry of Public Security, the chip-based passport is a prerequisite and a base to control the border automatically, creating favorable conditions for traveling, exit and entry activities among countries, especially in countries applying biometric identification technology to control e-passports at some international borders.
The backside of a chip-based passport.
The chip-based passport will not only show personal information, including full name, date of birth, nationality but it also stores biometric information of people comprising fingerprint, iris, face, blood group and so on. The more information it has, the more accurate it will be on citizen identification. Therefore, officials in charge of controlling exit and entry will promptly identify information of passengers when they perform procedures.
The chip is placed at the ending page of the passport on hardcover, ensuring aesthetics and safety during the usage process.
The new chip-based passport will be more secure thanks to the information storage on its chip which is very difficult to copy.
The chip-based passport will be like the new style popular passport with its supplement of the place of birth.
The new chip-based passport's form basically look like an ordinary passport without chip, having blue cover with beautiful scenery and cultural heritages of Vietnam on its pages.
According to the Immigration Department, the passport without chip and chip-based passport will be circulated at the same time. Vietnamese citizens from 14 years old have the right to choose a passport without a chip or a chip-based passport when they submit the procedures.