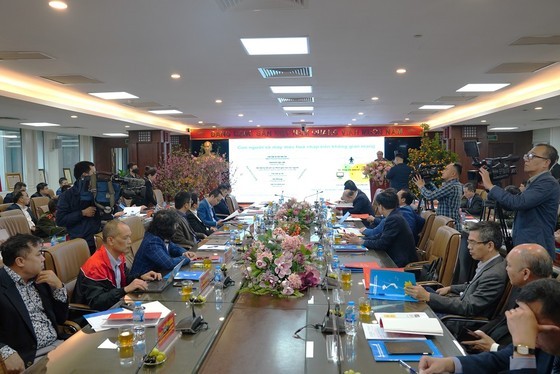 Professors, associate professors, PhDs, and experts discuss at the seminar
This morning, the Ministry of Public Security and the Working Group of the project on developing the application of population data, identification, and electronic authentication for the national digital transformation period 2022-2025 with the vision to 2030 (Project 06) held the first national workshop on building a national data center with the theme 'Establish the right data strategy to boost socio-economic development'.
At the seminar, professors, associate professors, PhDs, and experts discussed data, security, and safety in data sharing, lessons learned from past experiences, highlighting the established problem group, and the right data strategy, creating a boost for socio-economic development.
Currently, many countries around the world have built centralized data centers and database systems.
For instance, in Asia, countries such as Korea, Japan, India, and Singapore have all focused on building national data centers to create a foundation for promoting digital transformation early and have gained significant achievement.
In Vietnam, the implementation process of e-Government and digital government, especially the implementation of Project 06, has shown limitations and shortcomings in terms of infrastructure and human resources.
Many information technology systems which have been used for a long time have not yet ensured safety and security. Many databases have stored similar data; plus, they have not been standardized for connection.
Therefore, the construction of a national data center in Vietnam should be done quickly in line with the trend of the world and the requirements of national digital transformation.
In Prime Minister's Notice No. 16 issued on January 28, the PM agreed to the policy of building a national data center. The Ministry of Public Security was assigned to coordinate with relevant ministries and agencies in submitting the proposal to build the national data center project to the Ministry of Public Security.
The workshop organizers were fully aware of the importance and complexity of building a national data center, so the workshop aimed to raise awareness and expertise in legal, infrastructure, and technology platforms; from which develop topics related to the construction, administration and operation of the national data center in order to have optimal and effective solutions.