SYDNEY, Sept 17, 2010 (AFP) - Australia's Victoria state government has defended the Melbourne Grand Prix after it posted its biggest loss in five years, costing taxpayers nearly 50 million US dollars, reports said Friday.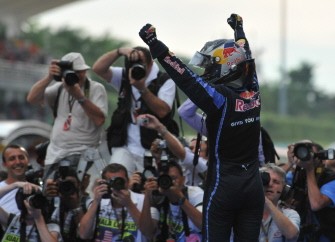 (AFP file) A winner in a Formula 1 race
Attendance was up at this year's race over 2009. But costs rose after the start time was moved to the evening to suit global television audiences, and the event was in the red to the tune of 49 million dollars (46 million US).
The GP is funded by the state government and has consistently lost money since Melbourne replaced Adelaide as Australia's Formula One venue in 1996.
But Victoria's Major Events Minister Tim Holding defended the costs in the face of criticism that the government was propping up a "millionaires' car race" at the expense of vital services.
"The economic benefit to Victoria far outweighs the cost of staging the Formula One Grand Prix," Holding was quoted as saying by Melbourne's Age newspaper.
"The race was seen by about 12.8 million people in Europe this year and the massive television exposure that the Melbourne Grand Prix receives has helped to build our worldwide reputation as a great place to visit and a great place to live."
Official costings for the Albert Park race show the state government's net spending on the race rocketed to 49.3 million dollars for the March 2010 event -- more than double the losses incurred in 2006, according to The Age.
State independent lawmaker Craig Ingram said it was outrageous the government was "bailing out a millionaires' car race for these sort of dollars" while health and other services were in urgent need of extra money.
"It has gone past a joke and it is time both sides of politics started to seriously reconsider the ongoing cost of taxpayers bailing out of this event," he told the Age.