A new typhoon named Melor is predicted to enter into the eastern territorial water of Philippines with its strong wind speed of level 14- 15 on December 14, reported the National Hydrology Meteorology Forecast Center on December 13.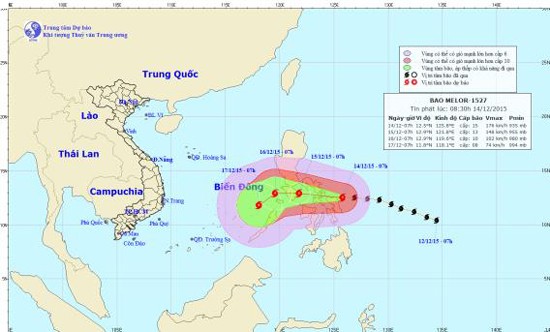 Direction of 'Melor' storm (Photo: the National Hydrology Meteorology Forecast Center)
According to weather forecast, the super storm will move westward with a speed of 15 kilometers an hour approaching East Sea's southern region.

At present, a cold front is entering in the northern region of Vietnam which is forecast to affect directly to the northern provinces of the Northern Delta from December 14; and then it will expand into the north central, mid central and south central provinces.

By December 16- 17, cold weather will shoulder over the northern and north central mountain provinces on the large scale.

The weather in the areas of Ho Chi Minh City and southern region will see sunny daytime and no rains at night. The highest temperature in the areas up to 33- 34 degrees Celsius daytime and 24- 25 degrees Celsius at night.