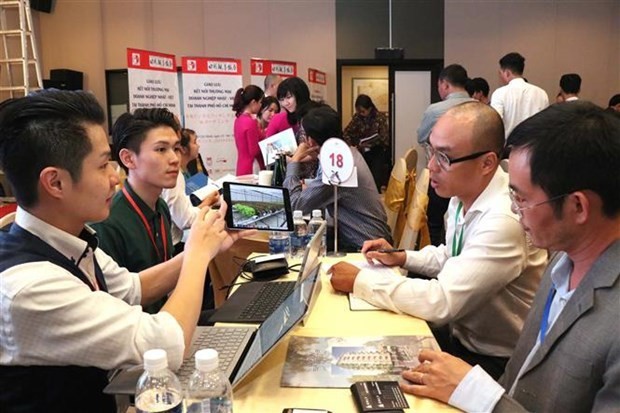 At a Vietnam-Japan business networking in Ho Chi Minh City (Photo: VNA)

The rate is the highest in the ASEAN region and third in Asia-Pacific only after India (72.5 percent) and Bangladesh (71.6 percent).
Another survey of JETRO also revealed Vietnam ranks only after US as a favourite destination for investment for Japanese companies.
Explaining the figures for Vietnam at a recent meeting with the Ministry of Planning and Investment, Chief Representative of JETRO in Hanoi Nakajima Takeo said Japanese businesses' expectation of higher revenue is based on the Vietnamese market's current export expansion and growth potential. Most small- and medium-sized enterprises (SMEs) in the group want to expand their activities in the non-manufacturing industry.
Also according to the poll, conducted in August and September last year, the prospect of business profit in Vietnam in 2022 recovered strongly after the Covid-19 pandemic, especially regarding the sectors of production - consumption and direct services, thanks to significant increases posted in export volume and market purchasing power. In 2023, the local manufacturing and non-manufacturing industries are forecast to improve by more than 50 percent.
At the meeting, Minister of Planning and Investment Nguyen Chi Dung underscored the Vietnamese Government's efforts for business climate improvement to attract more foreign investors, including those from Japan.
He suggested JETRO assist Vietnamese SMEs in building capacity and forming linkages with their Japanese peers; transfer technologies to Vietnam; and encourage Japanese firms to promote innovation and R&D activities in the Southeast Asian nation.