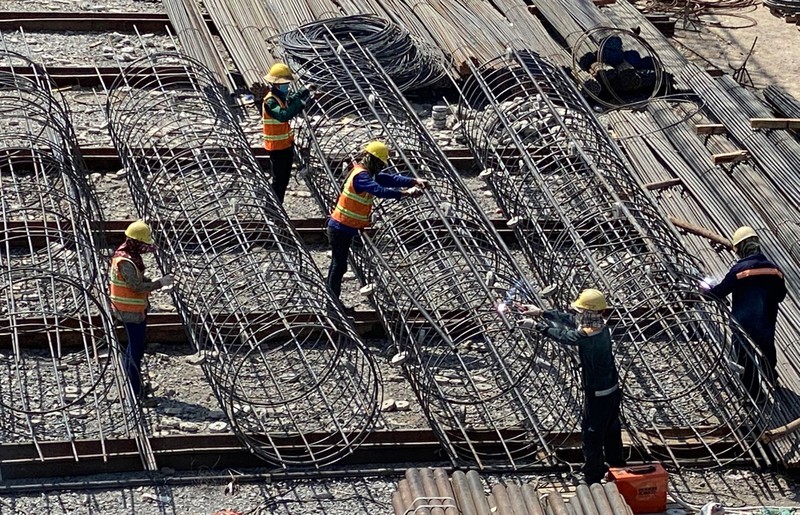 Illustrative image. (Photo: SGGP)
Despite expectations that the demand for iron and steel will rise due to the government's efforts to reduce supply by disbursing public investment, removing funding for key projects, or focusing on social housing projects, the cost of construction materials remains stubbornly high.
According to contractors and investors in Hanoi, while the price of cement has stabilized, other essential building materials such as steel and construction sand continue to increase in price.
This trend has made it difficult for businesses to accept contracts for construction projects that require large amounts of steel, as they fear heavy losses if the price of steel continues to rise.
As a result, many construction projects remain unfinished, as businesses are unwilling to take on the financial risk of completing the work.
A director of an enterprise specializing in the construction of bridges and roads said that every time a supplier sent a new quote, it was like "sitting on a fire".
Since the beginning of this year, the price of CB240 coil and D10 CB300 reinforcing bars after at least five adjustments has reached approximately VND16 million (US$678) per ton. Hoa Phat steel bar prices in the south rose by VND200,000 per ton on March 6, and it is expected to be applied in the northern market too.
The price of construction sand after the Lunar New Year has soared because many agent owners reported scarcity due to decreasing supply.
Construction enterprises, which already had difficulty in maintaining their cash flow, high borrowing costs and many debts from the declining real estate market, are now gradually "getting hit" by fluctuations in the price of building materials.
Some experts predicted that if this situation persists, the number of companies with sufficient capacity and quality in the construction industry would be counted on one hand in the next five years.
Data from the business registration authority shows that the whole country had 51,401 enterprises withdrawing from the market in the first two months of this year, a year-on-year increase of 14.5 percent.
Among 17 business lines, construction and real estate businesses have a very high number of enterprises suspending business with more than 7,180 enterprises.
The construction industry has 5,525 enterprises registered to suspend their business, up 22 percent year-on-year.
Similarly, 1,660 enterprises in the real estate industry registered to suspend their business in the past two months, up 57 percent.