Food hygiene and safety and the level of public debts were two major concerns voters in HCM City's District 4 expressed during their meeting with State President Truong Tan Sang and the city's National Assembly members on Sunday.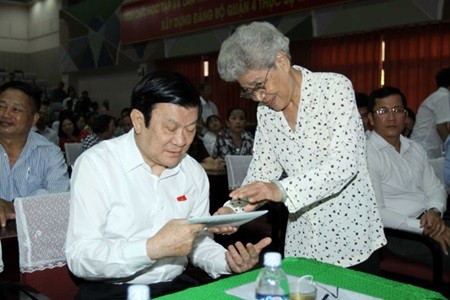 State President Truong Tan Sang meets with voters in HCM City's District 4. — VNA/VNS Photo Nguyen Khang
Nguyen Trong Nhuong told Sang that he was greatly worried at seeing people use prohibited agents in cattle and vegetable farming, and since it would affect people's health, the Government should take steps to stop it.
Authorities should enforce the Law on Food Hygiene and Safety from the farm to the processing plant, and top leaders should be held accountable in places where unsafe food is found, he said.
Another voter, Chung Cuong Sanh, said he was disappointed with the Minister of Agriculture and Rural Development's reply to a question about food hygiene and safety at the recent session of the National Assembly.
After hearing from the public, the President said food safety is among the top issues concerning people, admitting the situation is becoming increasingly serious despite regular inspection by authorities.
"We need to find solutions for this. Without that, it will affect the people."
Voters also expressed their opinions about the rising public debts.
Le Ngoc Long called for public debts to be monitored closely lest the situation worsened.
Pham Thi Bach Tuyet expressed unhappiness about the construction of lavish office buildings by many administrations amid the rising debts even as living conditions in rural areas remained bad.
Sang said the country's GDP grew by 6 per cent annually and public debts by 18 – 20 per cent, and said local governments should reconsider their expenditure.
He blamed the rise in public debts to poor investments, but said it was a complex issue.
"I realise the [import] issue, but it is not simple to curb the growth in public debt because we have many projects in need of investment."