Ensuring social security for city residents is also one of the contents selected as the theme for 2023 of HCMC.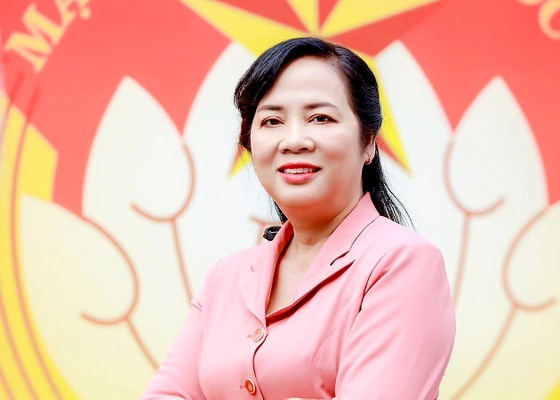 Chairwoman of the Vietnam Fatherland Front Committee in Ho Chi Minh City Tran Kim Yen
SGGP Newspaper reporters had an exchange with Chairwoman of the Vietnam Fatherland Front Committee in Ho Chi Minh City Tran Kim Yen, about issues surrounding the implementation of measures to ensure social security.
After the Covid-19 epidemic, businesses focused on restoring production and business while they had been facing many difficulties and challenges. However, their generous hearts to help other disadvantaged people continued to shine. Specifically, many businesses, organizations and individuals donated money to the 'For the Poor' Fund at all levels of the city; thanks to the fund, poor and near-poor households received financial support to overcome their daily difficulties. The city's fatherland front committees in districts will continue to carry out these activities in the coming time.
Moreover, last year, the "For the Poor" Fund mobilized nearly VND310 billion to help the poor. From this source, fatherland front committees at all levels spent taking care of all city dwellers with a total amount of more than VND265 billion which was used for the construction and repair of 1,051 houses of gratitude; 16,831 Nguyen Huu Tho scholarships to students from poor, near-poor households and under difficult circumstances; donations of 322 means of livelihood to poor households; 147,771 gifts on holidays and New Year; regular hardship allowance for 6,220 poor households.
In 2023, the Ho Chi Minh City Vietnam Fatherland Front Committee - Ho Chi Minh City "For the Poor" Fund Campaign Committee will continue to coordinate in calling for donations for poor households in the city through many social security programs towards solutions to support sustainable poverty reduction.
Fatherland Front committees awarded the Nguyen Huu Tho scholarship as well as gave financial support to encourage people to pursue a vocational training course and job creation, means of livelihood for poor households. Furthermore, committees will sponsor excellent students to overcome difficulties in the academic year 2023-2024.
Simultaneously, committees will continue to support and repair houses of love for poor households, near-poor households and households in difficult circumstances while providing monthly expenses for orphans. It is expected that this year, the "For the Poor" Fund will provide regular monthly allowances to about 800 exceptionally poor households. Difficulties with a total cost of more than VND7.5 billion.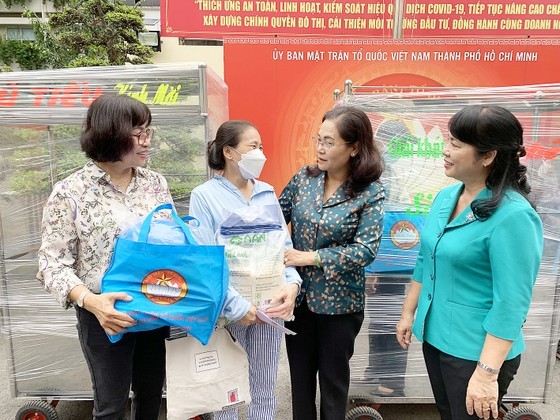 Chairwoman of the People's Council of Ho Chi Minh City Nguyen Thi Le (2nd, R) presents means of livelihood and gifts to people in need (Photo: SGGP)
With the desire to maintain and develop this model to become a unit that acts as a bridge connecting stakeholders to participate in social security activities, building and implementing social security policies for Ho Chi Minh City, it is necessary to establish the Ho Chi Minh City Welfare Center which will operate under the model of the Social Security Fund in the future.
The Ho Chi Minh City Social Security Fund aims to become a bridge connecting the parties involved in providing and supporting basic social security services for individuals and immigrant workers and disadvantaged people in Ho Chi Minh City who have not enjoyed the current social security policy.
The Ho Chi Minh City Social Security Fund is expected to promote coordination with agencies, organizations, socio-political organizations, individuals, benefactors, and volunteer organizations in the development of specific projects and programs to support disadvantaged workers with a focus on job training support, improvement of professional skills, support of job transition and vocational training.
Thus, the Ho Chi Minh City Social Security Fund aims to improve the effectiveness of the sustainable poverty reduction program. Along with that, it will have programs and projects that will provide difficult workers with skills, awareness and other forms of support so that workers can increase the value of their labor, and increase their source of income; therefore, contributing to the city's sustainable poverty reduction program.
Chairwoman of the Vietnam Fatherland Front Committee in Ho Chi Minh City Tran Kim Yen revealed that on the occasion of the Lunar New Year 2023, the committee cooperated with the Ho Chi Minh City Labor Federation to give more than 4,000 gifts to difficult workers and laborers with a total budget of more than VND4 billion in addition to other programs to take care of and support workers and employees to encourage them while staying in the southern metropolis.
In the coming time, the Fatherland Front will coordinate with the Labor Confederation, the Department of Labour, Invalids and Social Affairs and the city's socio-political organizations to soon review and propose programs to support workers and employees, especially to help them change careers, find new jobs with social security programs. Ms. Yen hoped that the state management agencies continue to have appropriate support policies such as income tax exemption and reduction; support workers and employers to find suitable new jobs.