European and Asian Tour golfer Bryan Saltus has arrived in Vietnam's Phan Thiet City for a six-week working trip to promote Sea Links Golf & Country Club, dubbed as 'The Most Challenging Links Style Golf Course in Asia.'
Speaking at a press briefing at the 18-hole golf course on August 30, the 2007 Cambodian Open champion said his three most favorite golf clubs in Vietnam are Sea Links, Ocean Dunes, which is also in the central coastal city, and Chi Linh Star, which is outside Hanoi.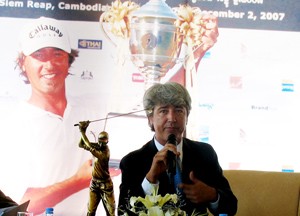 Bryan Saltus speaks at a press briefing at the Sea Links golf course on August 30, 2010. His 2007 Cambodian Open trophy stands by him. (Photo: Tuong Thuy)
Asked about his feeling of Sea Links, the 39-year-old Californian with salt and pepper hair said, "I'm really impressed by the location."
"In America, the idea is location, location, location."
Sea Links is located by the ocean and the winds blow all the time around the sand dunes. Inspired and designed by the Home of Golf, St.Andrews in Scotland, this par-72 golf course enjoys the warm and sunny weather all year round.
"Playing golf here, you have to estimate the strength of the winds. This requires experience and that's why playing here is challenging," he told Saigon Giai Phong.
"I'll be returning here to work or play."
"I might live here, might have a home here," the colorful Californian said, adding that he came to Phan Thiet for the first time.
The beach city of Phan Thiet in Binh Thuan Province is 200 kilometers north of Ho Chi Minh City and houses a great deal of resorts and hospitality properties.
'Golf is for Everyone' is the class Saltus will be guiding during his six weeks at the golf course, said Sea Links Golf general manager Stephen Banks.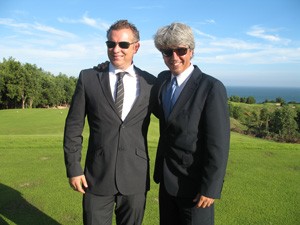 Bryan Saltus (R) and Sea Links general manager Stephen Banks pose at the golf course on August 30, 2010. (Photo: Tuong Thuy)
The PGA member said Saltus would be inviting children of the owners of the villas in Sea Links and Binh Thuan Province's business people to participate in the class. He would then conclude his visit by holding the inaugural Bryan Saltus Golf Classic Tournament on September 24-25.
Sea Links has been voted by Vietnam Golf Magazine readers as the country's Most Challenging Golf Course. It opened in 2008 as part of Sea Links City, a property complex that includes the five-star Sea Links Beach Hotel, which will be launched in mid-October.
The complex spans 58 acres on a long stretch of sand dunes overlooking the ocean.