The German Government will provide flood-hit provinces in the Mekong Delta with relief aids worth 1.4 million euros, the German Embassy in Hanoi said Monday.
The assistance, which is equivalent to US$1.86 million USD, aims to support the southern provinces that have been affected since this September.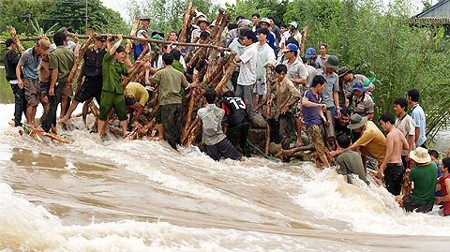 File photo taken in early October 2011 shows Mekong Delta residents reinforce a flood barrier
The embassy said 400,000 euros would be used for relief projects co-conducted by Red Cross of Germany and of Vietnam. The sum will be spent on food and seeds supply, as well as recovering submerged agricultural land and infrastructure.
The German Federal Ministry for Economic Cooperation and Development will supply 1 million euros to develop the European country's cooperation activities with Vietnam, the embassy said.
The funding will go to projects designed to help mitigate the aftermath of floods in the coming time and upgrade infrastructure damaged by the recent floods in the Mekong Delta.
In a related development, the Australian Agency for International Development (AusAID) announced Nov. 25 it would provide A$500,000 to help address current flood issues in the Mekong Delta region.
The financial support is in response to an emergency appeal that the International Federation of Red Cross and Red Crescent Societies made earlier this month to assist the delta.