The large picture titled "France-Vietnam Spring" painted by artist Nguyen Thu Thuy and her colleagues of the New Hanoi Art Company is 3.5m in height and 40m in length, portraying typical flowers of the two countries.

In 2013, Mayor of Choisy-le-Roi city, Daniel Davisse invited artist Nguyen Thu Thuy to make a ceramic painting to celebrate the 40th anniversary of the signing of the Paris Peace Accords on Vietnam.
Delegations of the Democratic Republic of Vietnam and the Provisional Revolutionary Government of the Republic of Southern Vietnam had been living for 5 years from 1968 to 1973 in Choisy le Roi, a suburban city 20km to the East of Paris, during the negotiations on the Paris Peace Accords.
Choisy-le-Roi city has maintained close ties with Vietnam. The French city has formed twinning relationship with Hanoi's Dong Da district since 1973 and assisted the district in building schools and medical stations.
The Vietnam Year in Choisy-le-Roi city was organized in June to introduce Vietnamese people, its land, cultural and tourism characteristics to the residents of the city.
Artist Nguyen Thu Thuy is a well known creator of the internationally famous 'ceramic road' running along the Red River in Hanoi .
Thuy received several local nad international awards, such as Silver Trophy at the A'Design Awards & Competition in Italia for her work "The Mirror House" in 2018; the bronze medal at the 10th International Design Awards (IDA) in the US for their mural painting at Da Nang International Airport in 2017; a consolation prize for her "Love heart for Hanoi" sculpture; the Honorable Mention Prize in the Other Products Designs Competition of the 8th International Design Awards (IDA) for the "Hanoi Lotus Fountain" Project in 2015.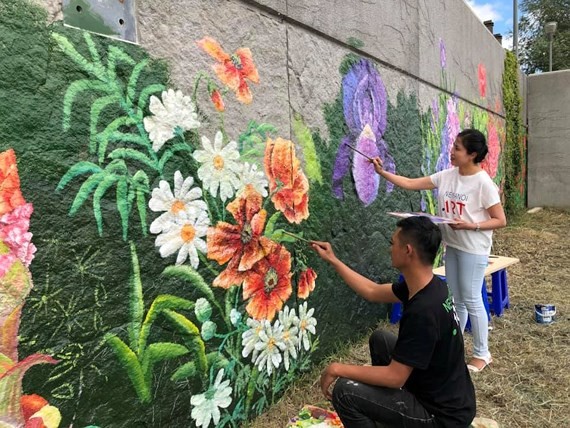 The mural painting presents typical flowers of the two countries.