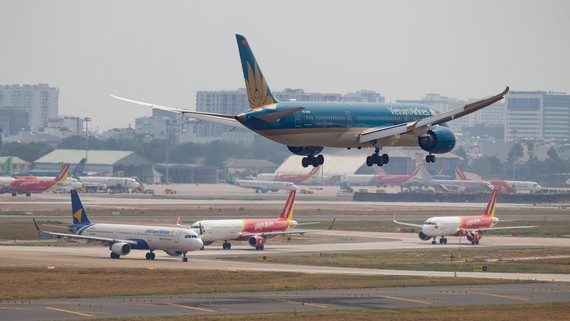 Specifically, Chu Lai airport in the Central Province of Quang Nam temporarily stopped receiving aircraft from 7:00 on September 27 to 6:59 on September 28.
The airports of Da Nang in the Central City of Da Nang, Phu Bai in the Central Province of Thua Thien-Hue, Phu Cat in the Central Province of Binh Dinh, and Pleiku in the Central-Highlands Province of Gia Lai will temporarily stop receiving aircraft from 12:00 on September 27 to 11:59 a.m. on September 28 under the Civil Aviation Authority of Vietnam's direction.
Airlines had to adjust their flights from Tuy Hoa, Vinh, Dong Hoi, Quy Nhon, Buon Me Thuot and Da Lat airports. At the same time, some other flights will also be affected due to the change in operating schedule.
Passengers on flights affected by typhoon No. 4 will be supported by airlines according to regulations and free of charge to other flights on the same itinerary if they demanded it.
Airlines recommend that passengers planning to fly during this time monitor and update the weather situation and information from the airline. Passengers also need to pay attention to information about the impact of storms on routes and means of transport to the airport to take the initiative in time and travel plans, ensuring timely arrival at the airport.