The Consulate General of the Netherlands in Ho Chi Minh City has sent a diplomatic note to the city Foreign Affairs Office, asking relevant Vietnamese agencies to investigate an assault on a Vietnamese Dutch outside a restaurant and inform them of the investigation's findings.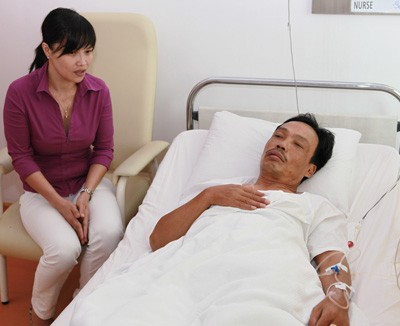 Phung Anh Tu (L), representative of of Minh Duc restaurant, visits Le Van Ngai in the hospital on July 31 (Photo: SGGP)
On July 30, after dinning, Le Van Ngai, the Vietnamese Dutch man, asked the guards at Minh Duc restaurant on Ton That Tung Street in the city's district 1 to fetch his motorbike from the parking lot, but they insolently refused and assailed him as he was leaving.
Ngai fainted after being attacked, got up after for a while, and then called the police on 113. This enraged his assailants who continued to beat him.
The police came and arrested three guards, who are staff members of Thanh Cong Security Service Company.
On August 3, the police arrested three more guards after releasing the others, as part of their ongoing investigation.
Ngai reportedly suffered injuries to his arms and back, bled from the face and was admitted to the Franco-Vietnamese Hospital.
Phung Anh Tu, the restaurant's representative, visited him in the hospital and apologized on July 31.