Heavy rains yesterday afternoon severely inundated many areas in Ho Chi Minh City and neighboring Dong Nai Provinces. Many places in the city were under 1.0 meters of water.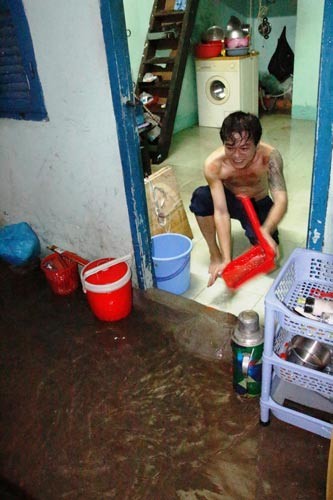 Residents in Binh Chanh District bail rainwater out of their house (Photo: SGGP)
The downpour heavily flooded many streets in District 5, 6, 10, Binh Tan and Tan Phu District.

In Truong Son Street – the major path to Tan Son Nhat International Airport - floodwater reached over half of the height of a motorbike and hundreds of drivers tried to get their vehicles through the congested road.

Traffic chaos prevailed as drivers had to wheel their vehicles. Hoang Van Thu Street in Tan Binh District was submerged and traffic paralyzed for hours.

On the Phan Thuc Duyet Street section near Hoang Van Thu Park, traffic congestion has seen because so many vehicles broke down; people wheeled their vehicles on the pavement to find out a place to repair.

Many streets in district 5 such as Tran Nhan Ton, Chau Van Liem, Hong Bang were under over 0.5 meter of water; floodwater entered houses and eateries and rose to the knees of residents. 28 year old Do Thai Phuong Ngoc in District 10 who had to drive on the Ly Thuong Kiet street at the section from Parkson Commercial Center to Nguyen Kim, Nguyen Chi Thanh and Ba Thang Hai streets to come back home said that the section became river not street any more because even taxi floated in the serious flood

Similarly, streets Hoa Binh, Au Co, Dong Den in district Tan Binh, Pham The Hien in district 8, Dien Bien Phu in district 3, Do Xuan Hop in district 9 people walked in the flood. As heavy rains occurred during rush hour, therefore traffic was congested on many routes.

Until 6.30, rains abated yet streets were still submerged.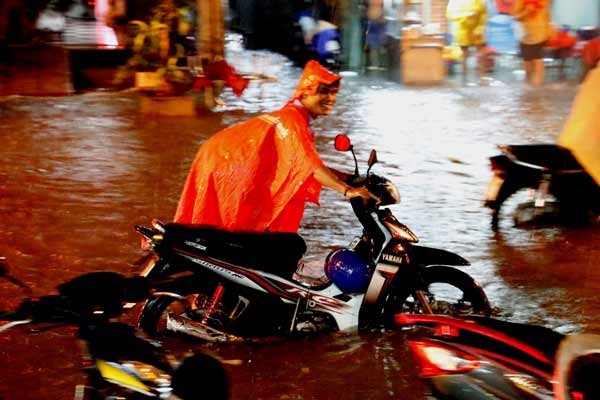 Vehicles broke down during heavy rains yesterday
(Photo: SGGP)
Residents in the alley No. 184 in Dang Van Ngu Street in Phu Nhuan District had to bail the water out.
Worse, the power was cut at some areas in the city.

Owner of a cafeteria shop in the street Tran Khac Hanh said at 4.15 PM, an explosion broke out at a transformer station in Cach Mang Thang Tam Street during the downpour, causing a power outage in different areas; accordingly, people were nervous when they bailed out rainwater.

At the same time, Dong Nai Province's Bien Hoa City was also flooded by a torrential rain that lasted during two hours yesterday.
The torrential rain submerged the entire city, with many streets under more than one meter of water, such as Huynh Van Nghe, Nguyen Ai Quoc in the section through Tan Phong Market, Dong Khoi and communes Long Binh, Long Binh Tan and Trang Dai.