Vietnam exported only 1.25 million tons of coffee with a total turnover of US$2.62 billion in the 2014-2015 crop, down 22 percent in volume and 20 percent in value over the previous crop.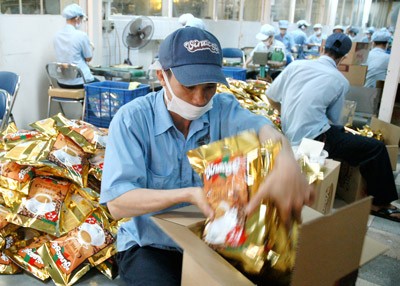 Workers box coffee product at Vinacafe Company (Photo: SGGP)
The report was made by the Vietnam Coffee and Cocoa Association (VCCA) at a meeting in Hanoi yesterday to review the last coffee crop and seek solutions for the coming crop 2015-2016.
Data by the Ministry of Agriculture and Rural Development indicated the same situation. For the first 11 months this year, coffee posted the most reduction in export volume and turnover, falling 28 percent and 30 percent over the same period last year respectively.

VCCA attributed the reduction to weather change causing rain occurs during harvest time and drought hit coffee plants amid its growing phase, many coffee fields suffered irrigation water shortage and complete loss.
In addition, the cost of labor and fertilizer soared highly to hit coffee farming.
However, according to the latest forecast by the U.S. Department of Agriculture, Vietnam's coffee export will increase 30 percent to reach the record high of 28.7 million bags in the 2015-2016 crop thanks to better weather.