This has been also the largest foreign container ship ever to dock in Vietnam's port system so far.
As of this morning, a welcoming ceremony for the container ship was held solemnly at Gemalink International Port in Cai Mep - Thi Vai deep seaport cluster, Ba Ria- Vung Tau Province.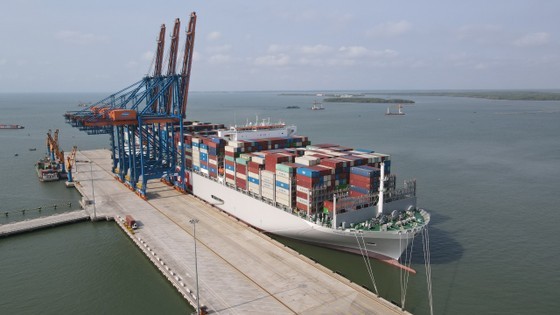 OOCL Spain docked in Cai Mep - Thi Vai deep seaport cluster.
The ship has just been manufactured on February 16 of 2023, with a length of nearly 400 meters and a width of 61.3 meters, a total tonnage of up to 225,000 DWT and owned by OOCL Hong Kong, the largest containership and logistics service company in Hong Kong (China).
The OOCL Spain was granted three "Smart Ship" environmentally friendly certificates by the American Bureau of Shipping (ABS).
This is the maiden voyage of OOCL Spain for 84 days on the Asia-Europe LL3 route through ports of Shanghai, Xiamen, Nansha, Hong Kong, Yantian, Cai Mep, Singapore, Piraeus, Hamburg, Rotterdam, Zeebrugge, Valencia, Piraeus, Abu Dhabi, Singapore and Shanghai.