The Argentinean Acercandonos Ediciones publishing house has released a book to honour late President Ho Chi Minh's thoughts and remind local readers of the majestic history of Vietnam's fight against foreign aggressors.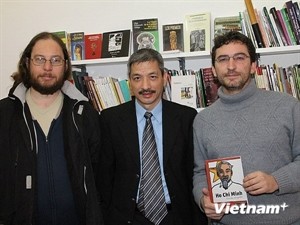 A VNA correspondent (middle) and representatives of the Acercandonos Ediciones publishing house (Photo: VNA)
Fernando Roperto, an official for editorial work at the publishing house, said the book is as part of a set of classic works highlighting Marxism-Leninism and the ideology of leaders of the world proletariat.
The book begins with the speech by a young Ho Chi Minh, then known as Nguyen Ai Quoc, at the 18th National Congress of the French Communist Party held in Tours city in 1920, and closes with his will and testament.
The book is a collection of speeches, articles, letters, reports and calls by President Ho Chi Minh along with some of his answers to reporters' questions. It formulates his revolutionary theory and policy on the liberation of a nation, class and people, which contributed greatly to the victory of Vietnam's struggles for national independence.
Roperto revealed his publishing house has planned to issue more books in order to help Argentinean friends deepen their understanding of the history of Vietnam's struggles for national liberation and unification as well as update information on the country.
Acercandonos Ediciones publishing house specialises in issuing works by world-renowned thinkers and young authors in a range of fields, including politics, philosophy and socio-culture, contributing to the cause of struggles for development, socio equality and links in Latin America.
Last year, Argentina's Cienflores publishing house, in co-ordination with Vietnam's The gioi (World) publishing house, released two works by late General Vo Nguyen Giap. Cienflores expects to release more works by President Ho Chi Minh and General Giap in the near future.