The Australian Agency for International Development announced Friday that it would provide A$500,000 to help address current flood issues in the Mekong Delta region.
The funding will support the Vietnam Red Cross in assisting 42,000 people who have been affected by the worst flooding to Vietnam's Mekong Delta in more than a decade, AusAID said in the announcement, sent out by the Australian Embassy in Hanoi.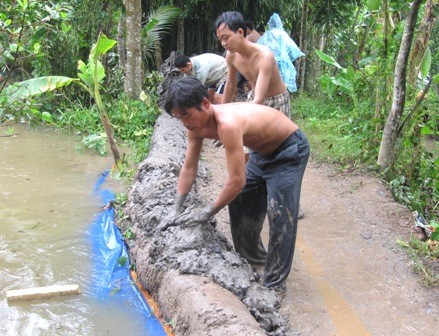 (File) Residents in the Mekong province of Dong Thap reinforce a flood barrier early October 2011 (Photo: Sai Gon Giai Phong)
The financial support is in response to an emergency appeal that the International Federation of Red Cross and Red Crescent Societies made earlier this month to assist the delta.
"Australia wants to help people in the Mekong Delta region quickly overcome difficulties caused by the floods," Australian Ambassador Allaster Cox said in the statement.
"Australia recognizes the important work of the Vietnam Red Cross in providing much needed assistance to help affected families rebuild their lives and we are pleased to provide additional support so that this can continue during this challenging time," he added.
Since the end of this September, floods in the delta have swept through the seven provinces of An Giang, Dong Thap, Long An, Can Tho, Vinh Long, Hau Giang and Kien Giang, causing significant losses and damages.
By mid-November, the floods have affected 153,744 houses and over 1,000 schools, causing 85 deaths, of which 72 were children under the age of 16, according to Vietnam's flood and storm preparedness committee. A total of 10,861 hectares of rice paddy have been lost.
The appeal with the support of Australia's contribution will assist the Vietnam Red Cross to provide relief and recovery assistance to 10,000 households across An Giang, Dong Thap and Long An provinces, according to the Australian Embassy.
Australia's assistance to the appeal will be channeled through the Australian Red Cross.