Cambodia, Indonesia and Laos – the three ASEAN countries where the ASEAN-Australia-New Zealand Free Trade Agreement has not entered into force yet – are working to complete their internal requirements at the earliest possible opportunity in 2010, said a senior Australian trade official.
Michael Mugliston, special negotiator, Free Trade Agreement Division, Australian Department of Foreign Affairs and Trade, said this at an Auscham business luncheon in Ho Chi Minh City on August 27, one day after he attended this year's ASEAN Economic Ministers Meetings with the economic ministers of Australia and New Zealand in Danang of Vietnam.
Mugliston was providing an update on the outcomes of the Danang meetings, including the implementation of the free trade agreement, which came into effect January 1, 2010 and is shortly called AANZFTA.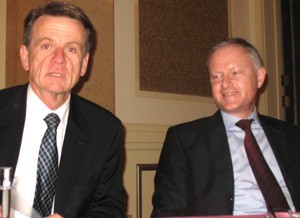 Michael Mugliston (L), and Stephen Payton from the New Zealand Ministry of Foreign Affairs and Trade: co-speakers at an Auscham business luncheon held in Ho Chi Minh City August 27 (Photo: Tuong Thuy)
"AANZFTA is the largest free trade agreement Australia has signed, and ASEAN's most comprehensive FTA," he said.
Mugliston added that Australia completed an FTA with New Zealand in 1983, with Singapore in 2003, with the United States in 2005, with Thailand in 2005, and with Chile last year.

Joining Mugliston at the event as co-speaker was Stephen Payton, a senior official from the New Zealand Ministry of Foreign Affairs and Trade, who also attended the Danang meetings on August 26.

Signed in Thailand in 2009, AANZFTA contains regional rules of origin and substantial tariff reduction and elimination commitments, as well as World Trade Organization-plus commitments in other areas such as services, which will provide commercially meaningful benefits to businesses of the 10 ASEAN countries, Australia and New Zealand, according to analysts.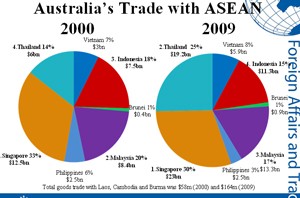 Australia's trade with ASEAN chart displayed by Michael Mugliston during the business luncheon (Photo: Tuong Thuy)
The agreement has already come into force for the two nations, Brunei, Malaysia, Myanmar, the Philippines, Singapore, Thailand and Vietnam.
During the Economic Ministers meetings in Vietnam's Danang August 26, the ministers urged parties concerned to expedite internal procedures in order to have all parties implementing the agreement by January 1, 2011, said the meetings' joint media statement seen by Saigon Giai Phong newspaper.
The statement wrote, "The ASEAN Economic Ministers expressed their appreciation to Australia and New Zealand for the continued support given to ASEAN through the AANZFTA Economic Cooperation Support Programme."
The AANZFTA Support Unit, which was formed on August 16, will provide technical assistance and secretariat support to the AANZFTA Joint Committee and the parties in implementing the agreement, the announcement said.
The ministers underscored the need to sustain the interest of the business sector on the AANZFTA and the importance of bringing them, especially small- and medium-enterprises, into the mainstream of the AANZFTA process, according to the statement.