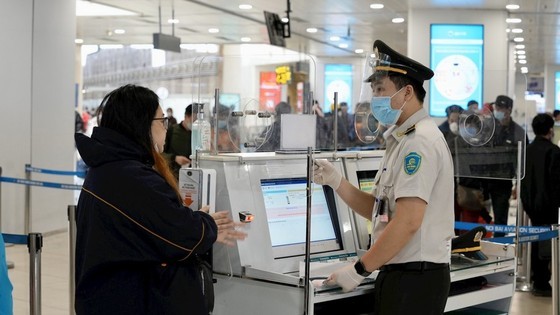 E-ID account at level 2 is piloted at Phu Bai airport. (Photo: SGGP)
The trial program will be applied to voluntary passengers on domestic flights. People can use their e-ID account via the app VNeID to replace their chip-based citizen ID card in boarding procedures.
Airport employees are encouraged to participate in the program voluntarily and are prohibited to use passenger's personal information for illegal purposes.
The notice of acceptance of the e-ID account at level 2 will be placed at check-in desks.
Airport staff will use their e-ID account at level 2 installed in smartphone to scan the QR code of e-ID account at level 2 of passengers reportedly displayed 'abnormal signs' and travelers on special flights to identity authentication.
E-ID account at level 2 was previously piloted at Cat Bi, Van Don, Phu Bai, and Noi Bai airports.
A level-2 e-ID account contains personally identifiable information, a portrait photo, and biometric data matched with national population data, citizen identification database, and national database on immigration.