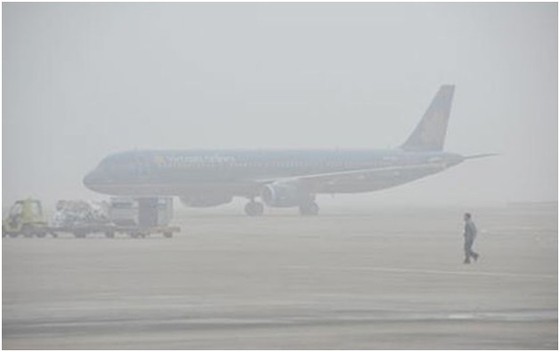 Airports in the North suffer dense fog. (Photo: SGGP)
Currently, some airports in the North are affected by fog and low clouds. Many flights have had to wait, cancel, and change direction, affecting the operating plans of airlines and service quality for passengers.
Facing this situation, the CAAV has requested airlines to actively monitor closely the weather situation to adjust plans or change flight schedules accordingly and ensure absolute safety for flight operations.
Airlines also need to direct pilots and flight operators to follow the operating procedures strictly, pay attention during the flights, and promptly contact the flight operators when they need help to ensure flight safety.
In conditions of dense fog and low clouds over a large area, airlines must choose a backup airport located outside the area affected by bad weather.
In case the flights have to wait, delay, cancel, or change direction due to weather reasons, airlines need to promptly notify passengers, fulfill the carrier's obligations, and ensure the interests of passengers.
For the flight operators, the CAAV notes that if the weather is not favorable, the air traffic controllers must issue a command to divert the plane to the appropriate alternate airport and promptly detect situations threatening flight safety to warn and take timely handling measures.
According to airlines, on February 7 and 8, dozens of flights to and from Vinh City of Nghe An Province and Tho Xuan District in Thanh Hoa Province and some other airports in the Northern region had to delay and cancel flights or change airports.